With time, home construction and architecture have come a long way. Nowadays, you just not only have a kitchen inside the house but you also might be able to create a kitchen in your outdoors. Think of the summer nights beside the pool in your lawn, with a barbecue party. But setting up these outdoor kitchens might require a professional hand because without the expertise and knowledge in this field, you might not know how to go about it. Right from the layout to the products you will need for building an outdoor kitchen, you might not be able to get it prepared. We, at Absolute Landscape & Turf Services, Inc., can be the right choice for you. We are an established and reliable company which brings you a great variety of landscaping services for both commercial and residential purposes. Starting with our driveways, walkways, garden, and water features to firepits, snow removal services, and various kinds of other landscaping requirements, we can help you with everything. We are known for our affordable charges and our customer oriented approach. So, if you are located in areas like, Howard County, MD, Ellicott City, Clarksville, Sykesville, West Friendship, or Glenelg, then you can opt for us.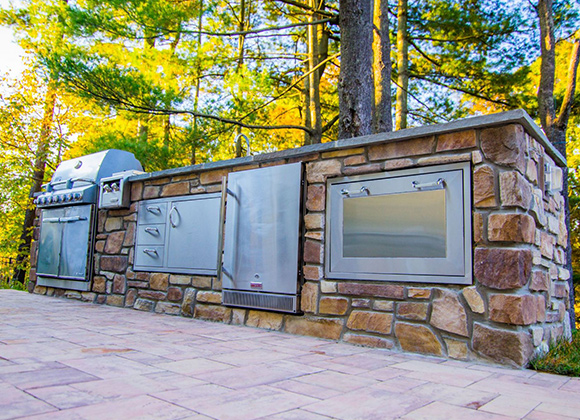 Here, we have put together a few things to check about a company offering you outdoor kitchen services. Take a look.
Simply coming up with the layout idea or the different kinds of elements you will put inside your kitchen will not help. You will also have to install the different equipment and appliances in this kitchen and help it to stand out from the rest. That is why you need to check if the company can help you with installation services are not.
Just getting hold of a fancy kitchen will not suffice. You also have to make sure it continues to be this grand even after years of wear and tear. That is why you need to carry out a good maintenance service for your outdoor kitchen. You need to check if the company are hiring can offer you maintenance services or not.
So, if you want to opt for us for your kitchen constructions or any other sort of landscaping needs, contact us today.