Retaining Walls in Clarksville, MD
Retaining walls give you control over the lay of the land. As an attractive addition to your home or business, retaining walls can be used to restrict access to certain areas, prevent flooding, reduce erosion, and add landscape appeal. For whatever your reason may be, we help you select and install the right retaining wall for your needs at the right price.
For over 20 years we've been serving Clarksville, MD, and the surrounding areas with quality landscaping and design-build services for the design and installation of retaining walls that enhance outdoor areas. As a small family-owned business ourselves, we understand the value of enhancing your home and/or business for optimal appeal.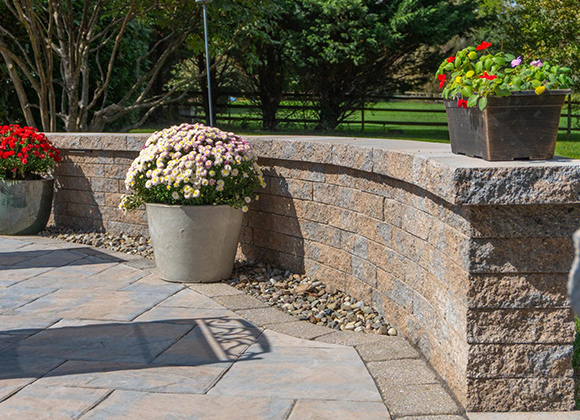 Retaining Walls for Clarksville Homes and Businesses
Retaining walls provide homeowners and businesses with the missing piece to their landscaping scheme. Utilized as a functional tool to prevent erosion and flooding, retaining walls are ideal for Clarksville businesses and homeowners looking to keep their outdoor areas clean and attractive.
Residential Retaining Walls
Retaining walls are a great addition to homes with hills and outdoor landscaping. As a functional addition to your garden, retaining walls are also an aesthetically pleasing and stylish structure that levels areas of your garden and enhances the overall theme of your outdoor area. Whether you're looking for a rustic brick wall for your garden or a chic slate pilot for your outdoor dining area, we help you every step of the way from design to installation.
Commercial Retaining Walls
If you own a business then it's likely that you need to install a retaining wall. As an integral part of your outdoor landscaping, retaining walls are a great addition to a range of businesses including:
Storefronts
Restaurants
Medical Practices
Legal Services
Offices, and more!
Retaining Wall Design and Install in Clarksville, MD​
As a safe community in the heart of Howard County, Clarksville has been named one of the best places to live in the state of Maryland. Minutes away from the Columbia District, Clarksville residents enjoy quiet living options in newly constructed and historical homes that capture the essence of East Coast living. Home to some of the best educational options for young students, it's no wonder why families choose to settle down in Clarksville, MD.
At Absolute Landscape & Turf Services, we take pride in providing Clarksville residents and businesses with quality retaining wall options that enclose outdoor spaces and enhance landscaping. With various styles and materials to choose from we help you get the look and feel that you want for your home or business at an affordable rate. From limestone retaining walls for your entry way to stone segment blocks for your garden, we help you design the look that enhances your landscaping and install walls that make you more satisfied with your outdoor space. Contact us today to chat about your new retaining wall!
Have a landscaping issue you just can't solve?
We're Here For You
Contact the experts at Absolute Landscape and Turf today!
410-489-0655