Decks and Pavilions Design and Installation Servicing Dayton, Ellicott City, Glenelg, Clarksville, Glenwood, Sykesville, West Friendship, MD, and the Surrounding Areas
Do you enjoy entertaining friends and family or just sitting outside enjoying a nice breeze or summer night sky? By adding a deck or any exterior structure to your property, you are increasing your outdoor living space for entertainment needs and personal enjoyment as well as your property value.
Our experts will work with you to design, create, and install a maintenance-free deck of your dreams with many options sure to fit your budget. Absolute Landscape & Turf Services can create a multitude of deck, railing and pavilion structural choices that will coincide with your overall aesthetics.
Many of our deck installations correspond with various other exterior projects such as pergolas, patios, outdoor fire pits, and places, outdoor kitchens, landscaping projects, etc.
Ready to transform your outdoor living space?
DECK DESIGN & INSTALLATION
A beautiful deck is more than just that, it's an extension of your living space that creates a functional and comfortable transition from the indoors to the outdoors.
CONTACT US
Decks
Decks are one of the most requested items with outdoor landscaping and renovations – including both new installations and replacement decks. We know our clients and neighbors love to embrace the good weather and head outside to entertain, dine and relax. Decks are a highly customized feature from the material you choose to the size of the area you want to cover. And, the design is imperative as each backyard is different and each house is different. Let our designers create the deck that's tailored for you and your vision.
Deck options include:
Custom seating
Various levels
Integrated lighting
Planters or storage
Outdoor Kitchens
Pizza Ovens
Fireplaces
And More!
Composite Decking
Everyone loves the natural look of wood but hates all the painting, staining, and sealing. Wood decks of all types, including pressure-treated wood, ipe, cedar, or redwood, require extensive upkeep. Composite decking was designed to match the beauty of wood decking, but not all the maintenance. These high-performance, eco-friendly composite boards withstand years of sun, sleet, and snow, keeping their rich color. So when comparing composite decking vs. wood, there's no competition as to which decking material is best.
Absolute Landscape & Turf Services offers composite decking from Trex. Trex has perfected the composite deck category with a lineup of low-maintenance, high-performance, eco-friendly products that fundamentally change the way we live outdoors. Composite decking will not rot, warp, crack, or be devoured by termites. Period. In fact, composite decking and railing products from Trex offer a 25-Year Limited Residential Warranty against material defects, and the high-performance lines add an additional layer of coverage with a 25-Year Limited Residential Fade and Stain Warranty.
Pavilions
Pavilions provide an extra place to relax and gather just outside your home. They're a great addition as they provide cover from the elements, and a pavilion can extend the days and seasons you use your outdoor space. A light rain will no longer ruin a planned outdoor event and your pavilion might even be an enjoyable escape from being trapped indoors.
Add a kitchen or fireplace and you've got a multi-functional space for entertaining or relaxing. Your pavilion can be as customized as you want, or traditional but ready for add-ins in the future. Think of the enjoying extended summer evenings, entertaining with string lights and comfortable outdoor furniture. Or, warm beverages around a fireplace on a cool autumn night. Pavilions are an outdoor enhancement that creates family time and entertaining space in fresh air.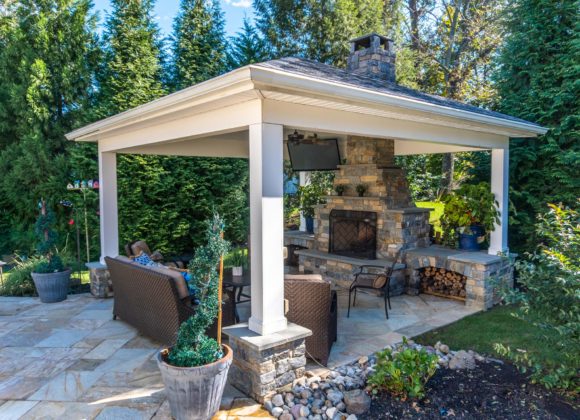 Your pavilion will be tailored to your vision and we may suggest some options for complete customization:
Attached or freestanding
Pergola or enclosed roof
Flooring options – natural stone, pavers, and more!
Surround sound and TV
Ceiling fans
Rustic and natural
Sleek and modern
Garden inspired
Decks & Pavilions Gallery
Have a landscaping issue you just can't solve?
We're Here For You
Contact the experts at Absolute Landscape and Turf today!
410-489-0655