Landscape Lighting Servicing Glenelg, Dayton, West Friendship, Sykesville, Ellicott City, Clarksville, Glenwood, MD, and the Surrounding Areas
Whether for nighttime entertaining, added security, or simple aesthetic beauty, outdoor lighting adds a dramatic effect to your landscaping and showcases your property. Absolute Landscape & Turf Services' professional's layout, wire, and install all components so all you have to do is flip a switch or set the timer.
We offer fully automated low voltage, LED lighting systems that beautifully accent all aspects of your property and creates a more secure environment. Our team of lighting professionals can design an energy-efficient system that is suitable for your needs and property.
And, did we tell you everything can be controlled from your phone? Yes, it's all possible!
Absolute's lighting design services are perfect both for residential and commercial landscape lighting. We can make your landscape lighting design as tailored to your vision as you want it. Dramatic nighttime flair, or soft and muted, or a combination.
Outdoor Landscape Lighting is ideal for:
Security lighting
Stairs and walkways
Pavilion lighting, fans and electronics
Pool areas
Driveways and entrances
Up-lighting trees
Retaining and exterior walls
Outdoor rooms and kitchens
Garages
Water features
Seating and focus areas
Pathway Landscape Lighting
Popular landscape lighting options include pathways and seating areas. Pathway lighting is an inviting way to welcome guests to your home as well as increase the security and safety of your front entrance. Seating and outdoor living area lighting extends usability time to enjoy the investment you've made in your backyard. You've spent time in designing and material selection, landscaping lighting is the last step in transforming how you use your property.
Professional Landscape Lighting
There's a reason landscape and hardscape installations include the final touch of outdoor landscape lighting. Professionally installed landscape lighting makes a difference in the accents, focal points and overall vision of an outdoor space. Highlight that fountain you searched you, the prized flower plant or aged trees in your front yard.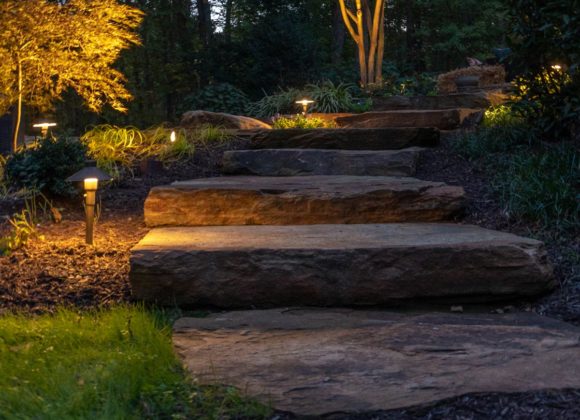 Choices in landscape lighting:
LED
Low energy
Timers
Remote controlled
Automation
Colors
String lights
Soft washes
Dramatic bullet lights
Landscape Lighting Installation
You've seen the ads or DIY videos about outdoor lighting, but let's be honest, you'll never get the same look as you can from professionally installed lighting. We can help your house and landscaping be the most showcased on the block.
Our design team will start by listening to your goals in both where and how you want your landscape lighting installed. We will then start the design process as a collaboration between our designers and your vision. Once the final design is approved, we will carefully install each piece and wiring with care and precision to give off the intend effect and provide long-lasting durability.
Your house and landscape design have been meticulously designed and deserve to be shown off. Let us help you come home to the best-looking house on the block.
Have a landscaping issue you just can't solve?
We're Here For You
Contact the experts at Absolute Landscape and Turf today!
410-489-0655