Commercial Landscape Design and Landscaping Services Servicing Dayton, Ellicott City, Glenelg, Clarksville, Glenwood, Sykesville, West Friendship, MD, and the Surrounding Areas
Absolute Landscape & Turf Services is a full-service landscape company handling all aspects of your commercial landscaping requirements in order to ensure beautiful properties and one less worry in your business life. We believe that establishing and maintaining strong working relationships directly correlates to successfully interpreting your desires and working within your budget, all while exceeding your expectations! Our dedicated team of landscape professionals handle all facets of your property with both precision and care – saving you time, money, and worry. Our comprehensive commercial landscaping services can fulfill of all your commercial property needs.
Full-Service Landscape Maintenance
Landscape Renovation
Retaining Walls
Seasonal Mowing Service
Commercial Snow and Ice Services
Low-voltage Landscape Lighting
Complete Turf Care Programs
Entrance Monuments
Tree Care and Maintenance
Water Features
Bio-retention Maintenance
Storm Water Management Pond Maintenance
Commercial Landscape Design Enhancements
At Absolute Landscape & Turf Services, we take pride in our unique creations in order to build an inviting entrance to any building or community. Each collection of plants, shrubs, and trees are carefully installed to please the eye, emphasize the beauty of the building or community, and enhance the overall appearance of the property.
Once our experienced landscapers have installed functional beds, annual flower rotations, and/or additional trees throughout your property, we can develop a complete tailored program to maintain your property professionally and efficiently.
Your property might need some updating or a whole new commercial landscape design. Either way, we are your responsive and professional partner to get it done. Our quality materials and installation can stand up to heavy commercial traffic and environments.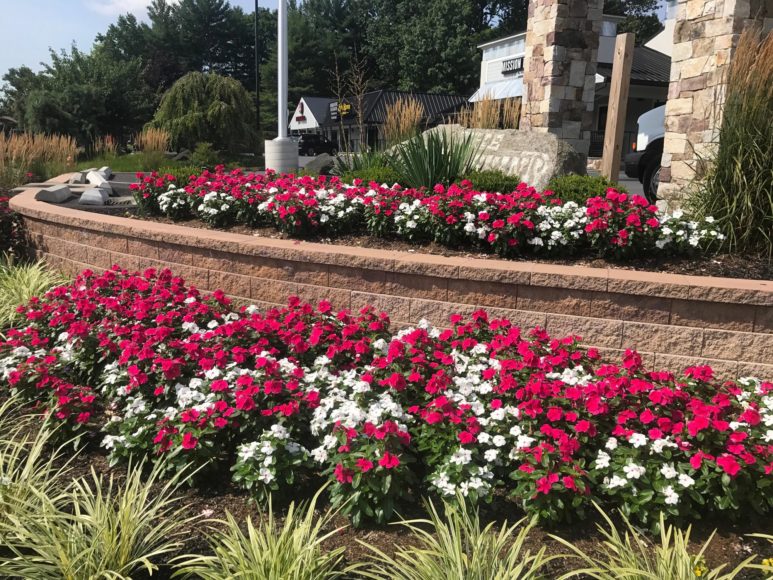 Commercial Landscaping and Grounds Maintenance
Our goal with property managers is to create a commercial landscaping plan that works with your vision and budget. Our commercial landscape designs create aesthetically pleasing outdoor spaces to improve morale, attract clientele, create a pleasant atmosphere, and surround your occupants with a fresh and appealing environment. We can create calm, minimal landscaping around religious institutions or exciting dramatic landscaping and lighting for nightlife flair.
Many different companies and types of businesses use our services including:
Schools
Offices
Class A Properties
Flex Properties
Warehouses
Home Owners Associations (HOAs)
Condominium Associations
Apartment Buildings
Restaurants
Retail Shops
Assisted Living Facilities
Hospitals and Clinics
And more
We know we can develop your vision, create a plan and work within budget for your commercial landscaping on your property. We have landscape designers ready to go to work on your next project. And if you are looking for grounds maintenance after your commercial landscape design, we have a full team ready to ensure your property is continually upheld.
Commercial Landscaping Gallery
Have a landscaping issue you just can't solve?
We're Here For You
Contact the experts at Absolute Landscape and Turf today!
410-489-0655