Patio Walkways, Landscape Walkways, and Landscape Patio Pavers in Glenelg, MD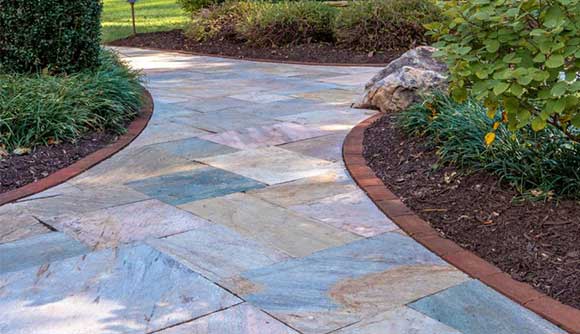 Homeowners in Glenelg often look for ways to improve the beauty of their outdoor space without breaking the bank. Landscape walkways, landscape patio pavers, and patio walkways are a great way to enhance your outdoor property, without breaking the bank. Creating stylish and functional paver walkways add value and character to your home. Let our staff at Absolute Landscape & Turf Services, Inc. assist you with every step of your patio, patio walkway, and landscape walkway project. We have been creating beautiful, functional, and safe paver patios, paver walkways, and landscape walkways for satisfied customers in Glenelg, for almost twenty years.
Patio Walkways in Glenelg
Glenelg homeowners have many options when it comes to choosing stone and paver walkways. We offer a wide variety of natural stone and interlocking concrete pavers. These come in a variety of colors and textures, to fit every style. Whether you want a stone or paver patio walkway that makes a standout statement or one that blends in with nature, we can make your vision a reality. Our staff will work with you to understand your style and where these walkways will connect, so they can design a seamless path from the walkway to the patio or around to the front of the house. We think about the big picture because we want you to be absolutely satisfied with our work.

Glenelg Landscape Patio Pavers
Pavers and paving stone can be installed anywhere around your home in Glenelg, enhancing the overall look of your outdoor space. They also create safe walkways for friends and family to enjoy. Paver and paving stone landscape walkways can be designed from a variety of materials such as:
Pavers
Brick
Stone
Flagstone
Travertine
Limestone
Slate
Permeable
If you're not sure which are the best pavers to use in your landscape walkway or patio installation, just ask our knowledgeable staff. We are available to answer any questions and guide you through your decision. Pavers for landscape walkways are a durable, stylish choice for homes in Glenelg. For more information on patio walkways, landscaped walkways, and landscape patio pavers in Glenelg visit, https://absolutescapes.com/.

Landscape Walkways for Glenelg Residents
For outdoor adventure head to nearby Robinson Nature Center and spend time watching your children play at the Nature Place, then hike the trails, which are both paved and rugged. Once you've worked up an appetite, head over to Cilantro's Neighborhood Cantina for a great Latin American meal. The staff makes you feel like family and there's no shortage of food at this buffet restaurant.



Ready to discuss your next exterior project?
OUR LANDSCAPE DESIGNERS ARE EXCITED TO MEET WITH YOU!
CALL: 410-489-0655