Driveways Servicing Dayton, Ellicott City, Glenelg, Sykesville, Clarksville, Glenwood, West Friendship, MD, and the Surrounding Areas
Your driveway is the largest focal point for your front yard and the final part of your landscape design and curb appeal. At Absolute Landscape & Turf Services, we believe an attractive and eye-appealing driveway is the entry point to your landscape design.
While a driveway may seem simple, we take the process of designing, building and material procurement very seriously. A well-built driveway can stand the test of time and last through rain, snow, freezing temperatures, heavy traffic and pressure. Our team will come to your location to survey the area and start the planning process.
We are confident the final results will leave you amazed.
Paver Driveways
Paver driveways are very popular for a good reason – their durability. Of course, you want your driveway to look new, but let's face it, driveways are constantly under attack from vehicle chemicals, heavy pressure, weather elements and more. The good news is that pavers can withstand a lot of what is thrown at them. And, if you need to ever replace one, it is a lot easier to replace a cracked paver than an entire cracked driveway.
Paver driveways are:
Easy to replace
Slip and skid resistant
Easy to clean with pressure washer
Naturally permeable
Unique stone patterns available
Flexibility in design
No curing period, ready to use immediately
Long lasting
Pavers come in many different shapes, styles, patterns or colors. Let our landscape designers create the tailored look that complements your landscaping and house. Whether you are looking for a unique design or a classic look, we are ready to meet your vision.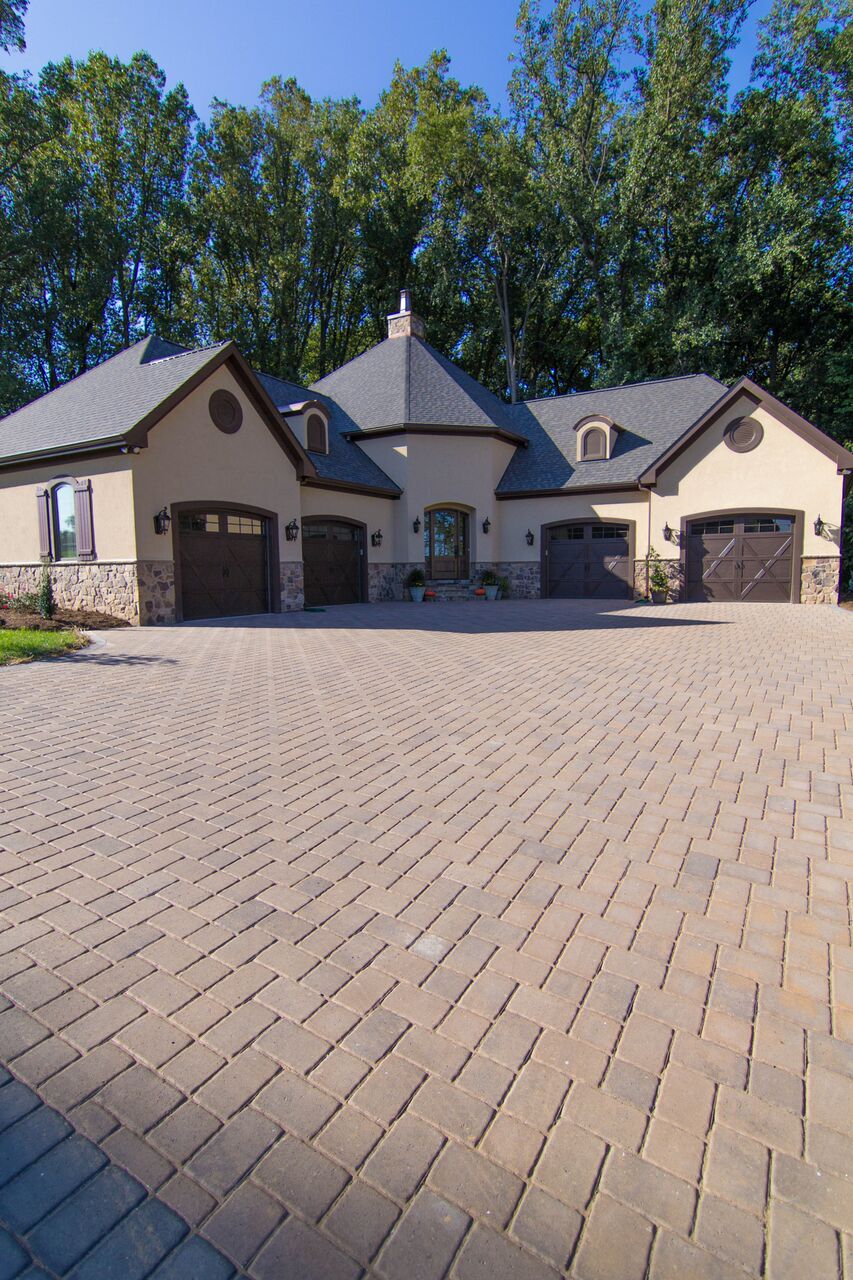 Commercial Paver Driveways
If you're considering a paver driveway for your commercial property, you are taking the first step into making a long-lasting and artistic design statement for your business. Your clients coming up the driveway to your location will immediately feel the class and care you have put into the design of your overall commercial landscaping.
Pavers are a long-lasting investment to the quality and curb appeal of your building. With the right care and our proper installation, you can expect 25-50 years of use. And, if you ever do need to replace one due to vehicle chemical staining, cracking or other reasons, the process is much easier than fixing a driveway. Pavers can also withstand a higher pressure per square inch than regular concrete. So much so, they are better at handling the high pressure of delivery trucks, emergency vehicles or other heavy equipment.
Commercial paver driveways can also be designed to let better water flow through, to avoid flooded parking lots, valet stands and customer drop-off areas. Your entire entry will look professionally designed and cared for with a paver driveway.
Have a landscaping issue you just can't solve?
We're Here For You
Contact the experts at Absolute Landscape and Turf today!
410-489-0655