The Benefits of Landscaping in Howard County, Glenwood, Ellicott City, Clarksville, Dayton, Glenelg, Sykesville, West Friendship, Marriottsville, MD, and Surrounding Areas
Your outdoor landscape should feel like an appealing space for you and your guests to retreat, recenter, and refocus. But if your landscaping does not create a feeling of positivity, then it's time to invest in professional landscape installation.
Landscapers can transform your outdoor area into a relaxing and attractive space where you can unwind and enjoy the beauty of nature, but the benefits don't stop there. With the home improvement boom in 2020-2021, many homeowners have taken interest in renovating the interiors of their homes but the exterior property shouldn't be neglected in the process. Here we have gathered some of the top benefits of landscaping that you should consider when looking to update your home.
Increase in Value & Increase in Space
#1 Increased Home Value
One of the greatest benefits of landscaping your property is the potential for an increase in your home's value. Sophisticated and well-designed outdoor landscaping may significantly increase the resale value of your home. According to SFGATE, well-landscaped homes have a price advantage of 5.5%-12.7%. For example, a home valued at $400,000 may see an increase in value between $22,000 to $50,000 just from having a properly designed and maintained landscape.
#2 Outdoor Living
Now more than ever has the comforts of home become a necessity. As more people are spending time within their homes, families across the nation have felt the need for more livable space within their homes. A great way to increase living space is to invest in outdoor living spaces created through landscaping and hardscaping. The addition of an outdoor deck or patio can offer you your own retreat from the household, simply by taking a few steps into your own backyard. Enhance outdoor areas with fire pits and fireplaces, outdoor seating, water features, and more. While most individuals spend their time indoors, landscapes can increase their quality of life by offering psychological benefits such as decreased stress.
Good for the Earth & Good for Me
#3 Environmental Benefits
Landscaping not only looks great but has fantastic environmental benefits including water conservation and an increase in oxygen and clean air. A single tree can absorb on average 22 pounds (10kg) of CO2 per year. In return, trees provide oxygen, and mature trees can provide a day's supply of oxygen for up to four people! Grass acts as a natural coolant, trees provide shade, and a healthy lawn can absorb runoff, potentially decreasing the flow of any unwanted chemicals or residues from nearby contaminated water sources.
#4 Energy-Efficiency
The planting of trees, grass, and shrubs can keep your home cooler. This can reduce the need for running HVAC units, in turn reducing maintenance costs and energy bills, thus helping you save money and reducing your carbon footprint. By strategically planting trees and shrubs on the south and west sides of buildings, these plants can provide shade during the hottest times of the day and also reduce the glare through your windows. Landscapes with drainage solutions can also reduce issues from flooding. Flooding can damage your landscape and home, stimulate mold growth, and create a breeding ground for pests such as mosquitoes. A properly designed landscape is more than just aesthetic, it can improve your home in many ways!
Landscaping Can Have a Powerful Impact on Your Home's Appearance
Your landscape is often the first thing that your visitors see. Are you making a good first impression?
Whether you're a homeowner or commercial property owner, professional landscapers can transform your property and create functional and attractive spaces that your guests will admire and your neighbors will envy. It's never too late to get the landscape you've always dreamed of!
If you are ready to improve your landscaping, the next question you must ask yourself is this: Should I do it myself or hire a professional landscaper?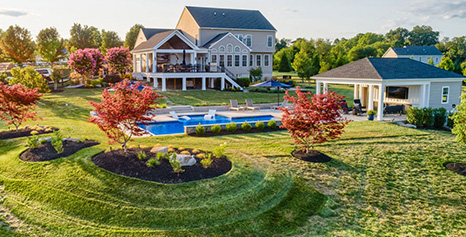 THE ABSOLUTE LANDSCAPE DIFFERENCE
At Absolute Landscape & Turf Services, we're in the business of making dreams come true with professional landscaping services for Clarksville, Dayton, Glenelg, West Friendship, and throughout Howard County, Maryland. With over two decades of experience offering unparalleled landscaping services and designs, our reputation for excellence proceeds us, making us the top choice for homeowners/businesses who want to make a great first impression!
Looking for the right contractors for landscaping services?
We're Here For You
Contact the experts at Absolute Landscape & Turf Services today!
410-489-0655