The Challenges of DIY Landscaping for Homeowners in Howard County, Maryland, including Glenwood, Ellicott City, Clarksville, Dayton Glenelg, Sykesville, West Friendship, and Marriottsville, MD
While recreational gardening can be a great way to enjoy the outdoors and relieve some stress, planning, installing, and maintaining an entire landscape can quickly become overwhelming. Even seemingly simple projects can quickly become a headache without the knowledge and tools that a professional landscaper can offer. DIY landscaping can lead to wasted time, money, and unsatisfactory landscapes that leave you with a bigger mess than you started with. When it comes to DIY landscaping our advice is DDIY (Don't Do It Yourself)! Here we have listed some of the most common problems with taking on DIY landscaping projects.
Inexperience May Cost You Money and Frustration
#1 It May Cost You More in the Long Run
If performed correctly, landscape installation can improve your home value by up to 12% or more. However, poorly executed landscaping can not only cost you money but precious time for a mediocre job. Homeowners may expect DIY landscaping to be more budget-friendly, but there are no guarantees. More serious landscaping mistakes can lead to costly repairs in the future and may require you to invest in equipment you don't otherwise need.
Improperly installed hardscapes may not hold up or flowers, shrubbery, and trees planted incorrectly may be short-lived. Unless you have the knowledge and tools needed to get the job done right, you may be left with a costly mess.
#2 Selecting Wrong Materials
Improper materials and installation can not only lead to unattractive DIY landscape designs but long-term damages that could affect your home's foundation. Elements such as patios, water features, and other outdoor structures need to be professionally installed for long-term sustainability and function. Opting for only the cheapest materials may also save you money upfront but might require more frequent replacement in the future. There are also important considerations when selecting the greenery and understanding how to plant them for the most benefit. Not understanding the proper depth, spacing, lighting, and drainage requirements for each plant could result in unhealthy plants and overcrowding.
Not Up to Code or Your Standards
#3 Building Codes and Legal Restrictions
Do you need a permit for your project? Do you know which permit(s) you need? Will you be violating any community HOA rules? These questions and more can stop a project before they even get started if you don't know who to turn to for answers. DIY landscaping can lead to damages to important areas of your home/business.
While areas like Howard County offer resources regarding planning and zoning, it's a lot to read through and understood. Hiring a professional landscaper for landscape installation ensures that landscapes are designed to accommodate HVAC equipment, pools, and important building codes.
#4 It Doesn't Turn Out the Way You Envisioned
This may be the most discouraging reason for not going with a DIY landscape. The perfect landscape picture in your mind may not be so easy to translate if you lack the design experience and equipment! That's because an experienced landscaper understands how to use design principles to create aesthetically pleasing spaces. It also takes a lot of work to install a landscape! Many DIYers also underestimate the physical requirements needed for things such as hardscaping. In some cases, you may simply not be physically capable of creating what you envisioned. When you want the job done properly and need help, it's best to trust an expert!
DIY Landscape Installation and Upkeep Issues
It takes a lot of effort to implement a great looking landscape. Are you up for maintaining it?
We work with you to create sustainable landscapes through customized landscape maintenance plans. Through landscape maintenance plans that are tailored to your property, our professional landscapers effectively maintain your landscaping so you don't have to worry about the tasking chore of keeping up with landscaping maintenance. Our landscape maintenance plans are composed of custom maintenance elements that may include tree-shrub-turf-mowing programs and more.
So if DIY is starting to sound more like DDIY, find out the best way to go about hiring a professional landscaper.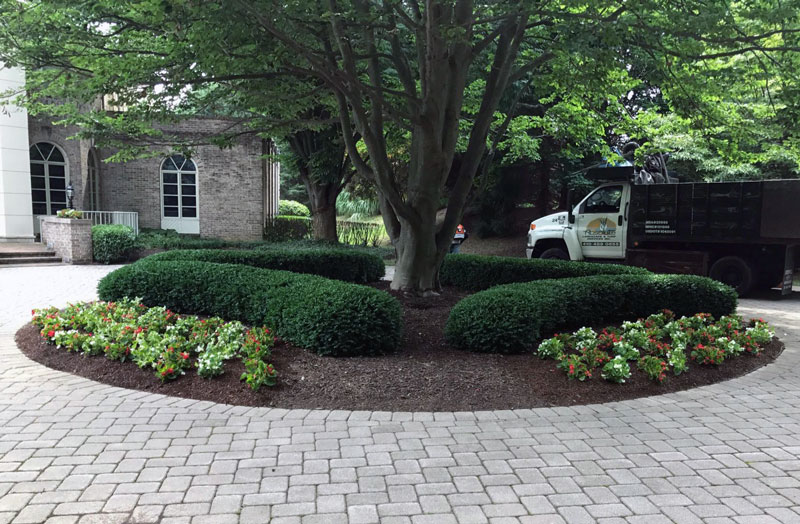 THE ABSOLUTE LANDSCAPE DIFFERENCE
When it comes to landscaping, it's best left to the professionals! Equipped with the experience, knowledge, and tools needed to get the job done right, our professional landscapers at Absolute Landscape make landscape dreams a reality for homeowners and businesses in Howard County, Marriottsville, Glenwood, Ellicott City, Clarksville, MD, and the surrounding areas.
Looking for the right contractors for landscaping services?
We're Here For You
Contact the experts at Absolute Landscape & Turf Services today!
410-489-0655