Landscape Design in Ellicott City, MD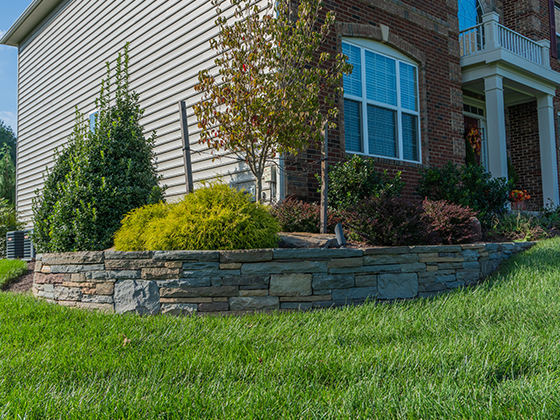 If you are not 100% satisfied with your commercial property or your residence, then it may be time for a change. Instead of picking up your things and moving, there are simpler and more cost-friendly solutions to changing the ambiance of your home or business. Professional landscape design can help you get the most out of your property and transform your commercial building or home into an aesthetically beautiful and attractive location.
Working with your personal style and your budget, our team helps you get the most out of your Ellicott City, MD home or building for renewed satisfaction.
Landscape Design-Build
We have an edge on the competition by providing design-build landscaping. Design-build landscaping is a process in which a single entity provides both design and installation services for landscaping projects. Instead of splitting your project through separate companies, we help you save time, money, and headache with professional landscape designers and building contractors in one place. By creating congruency between designers and builders you get the most accurate final landscape design at the best price.
Following a unique process, at Absolute Landscape & Turf Inc. we provide quick and efficient results without sacrificing quality. Our landscape design services include a series of three simple steps:
Consultation and Design – Our landscape designers get to know you personally to discuss your ideas and get a sense of your unique style to provide you with a landscape design plan that gives you exactly what you want at the price you deserve.
Pre-Construction – Before beginning construction, our landscape design experts comprise a design plan that is carefully reviewed to ensure the success of every stage of your landscaping project.
Post-Construction – After successful landscaping construction, our team conducts a walk-through where they ensure every aspect of satisfaction and discuss maintenance tips and packages to help with the upkeep of your landscape design.
With a reputation for excellence, we provide sustainable and attractive landscapes that are one of a kind. You don't have to move if you're not satisfied with your property, it's our honor to help you transform your personal property into the property of your dreams with minimal interruption.
Commercial and Residential Landscape Design in Ellicott City, Maryland, 21041, 21042, and 21043 Areas
As a prominent part of the Baltimore metropolitan area, Ellicott City, MD is considered the largest unincorporated County in the United States. Although unincorporated, residents of Ellicott City, MD greet visitors with pride and dedication to their community. From historic sites to the store windows glistening on main street, Ellicott City is an ideal place for residents and business owners looking to establish their lives in a community that will embrace them with open arms.
Operating since 2001, we have been serving Ellicott City, MD with supreme landscape design services that are unique and thoughtful. With a dedication to sustainability and personalized design, our team of professionals at Absolute Landscape & Turf Inc. is committed to working with you to create customized landscape designs that stun bystanders and increase your property value.
Have a landscaping issue you just can't solve?
We're Here For You
Contact the experts at Absolute Landscape and Turf today!
410-489-0655