Pool Patio Design and Pool Deck Design in Howard County Including Dayton, Clarksville, Ellicott City, Glenwood, West Friendship, Glenelg, Sykesville, MD, and the Surrounding Areas
Pools can be an attractive addition to your home with the right pool deck design. From taking your outdoor BBQ to the next level to enjoying a midnight swim, a pool is an investment that you won't regret. However, a pool itself isn't enough. Pool patio designs complete the look of your backyard and provide you, your loved ones, and your guests with a charming and practical space to enjoy the outdoors.
At Absolute Landscape & Turf Services, we help you take your pool deck design to the next level with customized landscaping. Serving homeowners in Glenelg, Glenwood, Sykesville, West Friendship, and the surrounding areas in Howard County, we enhance your outdoor landscape to give you the pool patio design of your dreams.
Pool Patio and Pool Deck Design
Whether you're looking to add an outdoor kitchen, an exotic waterfall, or a fire pit to enjoy those long summer nights, we help you find exactly what you're looking for. With our team of expert landscapers on the job, we handle all aspects of your new pool deck design from planning and installation to maintenance. Our pool deck designs are composed of the most attractive and durable materials such as:
Natural Stone – Natural stone decks are a modern and popular pool deck material choice that can be placed in any setting. With a natural look, these diverse and durable decks are easy to maintain.
Composite – Composite pool decks are durable and create an attractive design that emulates the aesthetic of wood while providing homeowners with a pool deck design that's scratch and splinter-free.
Pavers – Pavers are a popular alternative to poured concrete. Typically made from cement, pavers come in a vast selection of styles and geometric shapes for a customized look.
Pool Patio Design and Pool Landscaping
At Absolute Landscape & Turf Services, we work with you, your budget, and your desires to help you craft the customized pool patio design of your dreams. With over two decades of experience serving homeowners in Howard County including Clarksville, Dayton, Ellicott City, and the surrounding areas, we've gained a reputation for our unique and stunning landscaping designs that increase the value of your home and create a customized space that you won't want to leave.
Contact Absolute Landscape & Turf Services today for more information!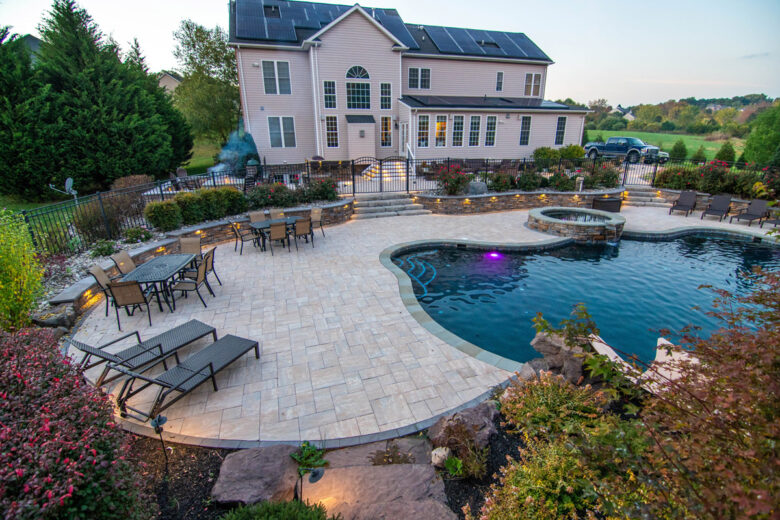 Outdoor Patio Design Gallery
Have a landscaping issue you just can't solve?
We're Here For You
Contact the experts at Absolute Landscape and Turf today!
410-489-0655