Landscape Installation Servicing Glenwood, West Friendship, Glenelg, Dayton, Ellicott City, Sykesville, Clarksville, MD, and the Surrounding Areas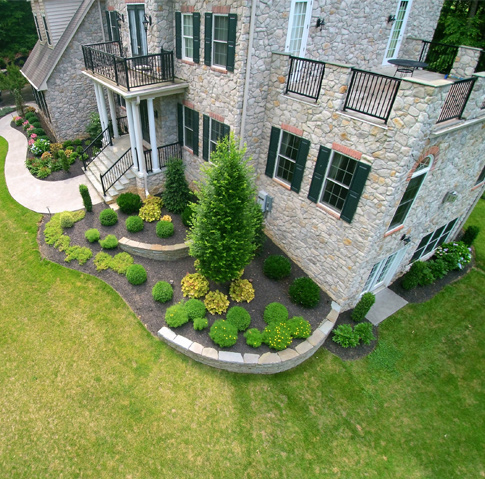 Once your design has been finalized, we will start planning the installation phase of your project. Absolute will make sure your build goes as smoothly as possible to ensure a worry-free installation. We know how important it is to see your vision come alive from the collaboration between your ideas and our landscape designers. Here are a couple of things we do to ensure the quality of our work and your satisfaction.
Design Approval – We work with you to finalize a design that fits your approval. Our landscape designers will be utilized on large projects for a clear vision of the final design.
Selection of Materials – Absolute Landscape only works with quality materials that will hold up to years of exposure, weather, pressure, and other environmental stress. Complex decks and pavilions may require that we use architects that advise us specifically on which materials to use for each project based on their strength and integrity.
Communication – You will have two points of contact throughout the whole process, your Project manager who will update you on your landscape installation as well as your Sales Rep. Larger projects may include daily updates, videos, pictures or other feedback. We always answer calls within 24 hours or less and will communicate any issues we experience. We feel our communication is one of the aspects that sets us apart from our competitors.
Work Commencement – Absolute will create an anticipated schedule for steps starting with material procurement. Your project will be broken out into different phases to make sure the job is completed correctly. All of our jobs are carefully installed to look and perform their best. This includes every plant, hardscape installation, and structure.
Walk Through and Approval – From landscape design to reality, we want to ensure satisfaction. If you have any questions, we'll be happy to answer them and explain how the work was completed. Since we use a team of professionals, we stand behind our work. And as we only use quality materials, we know our landscape installations will stand the test of time.
Maintenance and Care – Many of our customers decide to continue with Absolute for the maintenance of their custom landscaping. We'll discuss maintenance packages without high-pressure sales pitches. We enjoy the transformation and want you to enjoy your new landscaping for as long as possible.
Our professionalization, communication, and commitment to our work is what sets us apart from other companies. We strive to provide quality design, materials, service and work through each step of your landscape installation to bring your vision to life and make sure you are 100% satisfied.
Residential Landscaping Installation Gallery
Have a landscaping issue you just can't solve?
We're Here For You
Contact the experts at Absolute Landscape and Turf today!
410-489-0655