The Professional Landscaping Solution for Homeowners in Howard County, Maryland, including Glenwood, Ellicott City, Clarksville, Dayton Glenelg, Sykesville, West Friendship, and Marriottsville, MD
While DIY landscaping may seem like a good idea, the reality is that DIY landscaping can lead to more time, money, and frustration in the long run. Professional landscapers have the tools and experience necessary to transform your outdoor area into the landscape of your dreams! Here we have compiled some of the top reasons why it's a good idea to hire a professional landscaper for landscaping services.
The Benefits of Professional Landscaping
#1 Planning and Budgeting
It's easy to get caught up in the moment when performing DIY landscaping. Underestimating the tools and products needed to complete the job is a common mistake many DIYers make. Professional landscapers have a realistic understanding of landscaping budgets, eliminating the surprise of unexpected expenses that may arise during DIY projects. The expression "you don't know what you don't know" is also applicable to landscape preparation. Working with a local expert in landscaping can ensure that every detail is planned to perfection before the project begins.
#2 Project Management
Project managers leverage their expertise to develop thoughtful landscapes while mitigating the common pitfalls that may occur during DIY projects. Depending on the complexity of your landscape design, it may require several specialists to complete the job. Many landscaping projects require multiple individuals to handle aspects such as transportation and the installation of hardscaping, pavers, foliage, pergolas, outdoor kitchens, fire pits, mulching, sod, and more. Working with a landscape project manager also ensures that projects are completed on time.
#3 Knowledge
Professional landscapers have experience interpreting natural elements and including them in landscape designs to create unique spaces that fit the flow and function of the property. Experienced landscaping companies, such as Absolute Landscape & Turf Services, can offer decades of experience to your project. You can benefit from their knowledge by working with a company that has obtained a variety of certifications, licenses, and memberships such as NALP, LCA, NCMA, and more. Simple mistakes like planting greenery incorrectly, selecting the wrong materials for a patio, or not planning for drainage can all be easily avoided when working with an experienced and knowledgable landscaper.
Professional Landscape Installation
When hiring our expert landscapers for landscape installation and landscape maintenance you get access to unparalleled landscaping services and functional designs that are nearly impossible to create with DIY landscaping methods. In addition to providing homeowners and businesses with landscaping services, we offer: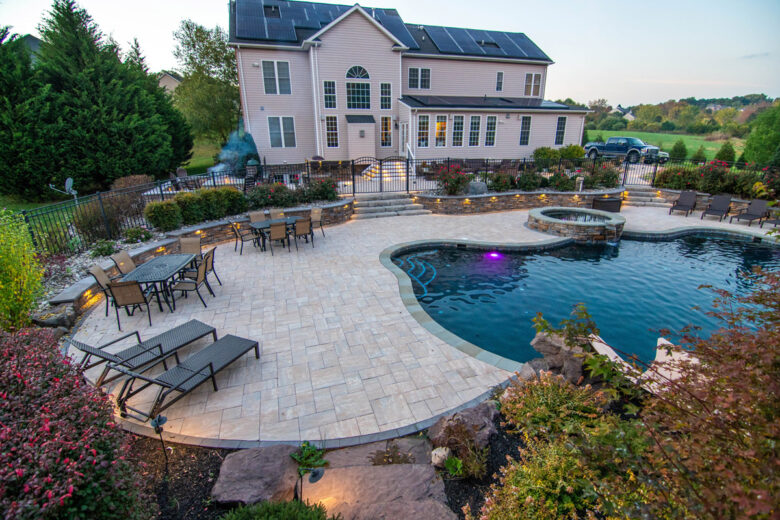 Our Landscaping Services
Your outdoor area deserves to look great! If you're not 100% satisfied with your landscaping, then it's time to give a professional a call.
At Absolute Landscape & Turf Services, we have over 20 years of experience providing landscaping services in Clarksville, West Friendship, Sykesville, Ellicott City, Glenelg, Dayton, Marriottsville, Howard County, Glenwood, MD, and the surrounding areas. With the ultimate goal of ensuring your absolute satisfaction, we work with you every step of the way, offering unmatched service when it comes to:

Landscape Design
We work with you to create the landscape design of your dreams, going above and beyond to exceed your expectations. When thoughtfully and meticulously designed, the final product will look like something straight out of a magazine.

Landscape Installation
Our landscapers have extensive experience in landscape installation, ensuring the utmost professionalism. It takes the right tools and knowledge to get the job done efficiently and most aesthetically pleasing.

Landscape Maintenance
No one needs another chore to add to their list! Instead, relax and enjoy your landscaping, worry-free, with professional landscape maintenance. We create customized landscape maintenance plans that keep your landscape in pristine condition.
THE ABSOLUTE LANDSCAPE DIFFERENCE
At Absolute Landscape & Turf Services, we go above and beyond to ensure proper landscape design, installation, and sustainability through landscape maintenance. With every aspect of our design-build process tailored to your unique wants, needs, and desires, our landscapers work with you to ensure attractive and functional landscapes 365 days a year.
Looking for the right contractors for landscaping services?
We're Here For You
Contact the experts at Absolute Landscape & Turf Services today!
410-489-0655