Outdoor Patio Design, and Outdoor Patio Installation Servicing Glenwood, Sykesville, West Friendship, Dayton, Ellicott City, Glenelg, Clarksville, MD, and the Surrounding Areas
A whole world awaits you and your family outside your back door.
Will it be an entertaining area? Will it have comfortable furniture? A fireplace or fire pit? Maybe an outdoor kitchen?
The first step in your new outdoor space is the construction plan of your patio. Your patio will be the foundation of the rest of your design and needs to support everything you plan for, now and the future. Absolute Landscape and Turf Services takes extra care in the survey, planning and building of your patio. This is the first step of many in your landscape design and needs to be perfect.
Some of the outdoor patio designs we work with are from scratch, while others are replacement patio designs.
Ready to transform your outdoor living space?
PATIO DESIGN & INSTALLATION
Get a custom patio designed to fit your wants and needs. Improve the overall function and aesthetics of your outdoor living space with a beautiful new patio installation.
CONTACT US
Outdoor Space Planning
We start the project by learning what will fit your outdoor space best. Imagine building a patio and then deciding later you want more furniture than fits. Or, your patio seizes up space you'd prefer greener. We can change anything in the future, but we always try to ask as many questions as understand your vision and tailor a design that will leave you 100% satisfied.
What is the purpose? Small, intimate family use or large entertaining?
How many people do you see using the patio?
What would you like to add on now or in the future?
How much and what kind of furniture will you be using?
Are there any particular designs you'd like to incorporate?
Are there any looks you really like? Traditional garden? Modern? Rustic?
What will it need to connect to?
Patio Materials
You can make designs by changing up the lines and direction. Or, use a mix of materials to feature edging or separation.
We have a large selection of quality material we work with including:
natural stone (sandstone, marble, slate, flagstone)
pavers
tile
Outdoor Patio Installation
We consider this one of the most important aspects of the patio design project. Absolute holds many certifications for installations such as being certified by the Interlocking Concrete Paving Institute (ICPI) and the National Concrete Masonry Association (NCMA).
At Absolute Landscape & Turf Services, Inc. we customize our design to fit your wants, needs, aesthetics, and overall functionality of your outdoor space. Whether you are looking for a simple patio to accessorize as you see fit or a larger design that incorporates add-ons such as a fire pit or pool deck, we will give you the same level of care and detail.
Regardless of your choice of materials, we have a product that will work for you! Take a look at some of our portfolio images and contact us to get started on your project today!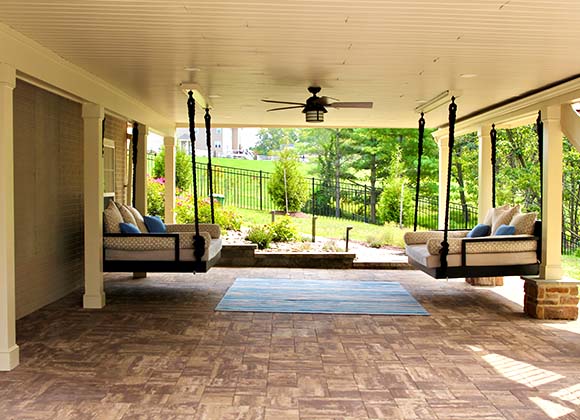 Relaxation Station
Outdoor Patio Design Gallery
Have a landscaping issue you just can't solve?
We're Here For You
Contact the experts at Absolute Landscape and Turf today!
410-489-0655