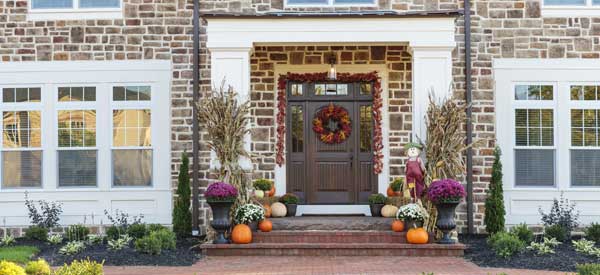 Family and friends are getting ready to descend on your home for the holidays and the front porch needs to be refreshed to coordinate with the season.
No matter how big your project design or how small your budget, there are things you can do to set your landscape above the rest. Be creative, don't be afraid to use elements from your tool shed or natural elements from the yard, and your home will be seasonally stunning in no time. Here are three fun and easy do-it-yourself fall decoration ideas.
Make a fall garden scene
A wheelbarrow makes a perfect prop for fall decorating – if you have one, use it! To make a harvest gardening scene for your lawn, you'll need some hay bales, pumpkins, gourds, branches, and other natural accents. Using the hay bales as a base, stack these in whatever way pleases you best. A variety of colors always looks great.
Using dried corn is an easy way to bring a pop of color to your scene. Simply tie a few cobbs together and hang on your door or railing. Cornstalks are an easy way to add height and texture. Bunch together 10-20 stalks with a piece of twine and place behind your wheelbarrow or hay bales!
Continue the harvest theme by adding a fall wreath to the front door. Whether store-bought or homemade, you can't go wrong with motifs of leaves and branches, root vegetables and squashes or simply orange foliage. Add lettered signs for a personal touch.
Update outdoor planters
Mums, fall flowers, gourds and pumpkins all come in a variety of colors and can enhance any outdoor decor. Remove all dead or dying summer plants and add new potting soil. Select no more than two or three colors to avoid a cluttered scene inside the planters.
Planting ivy or other low-growing greenery along the edges of the planter will add depth to the look and color of your planters. In general, it's a good rule of thumb to have a few varying heights of plants to create differing layers in the design. Gather pumpkins and gourds around the base of the planters and water as required.
If you are looking to avoid planting flowers, try stacking several styles and sizes of pumpkins. Clean out planters of dead plants. Pack soil into the top of the planters to create a solid surface.
Add three to four pumpkins on top of one another, stacking the largest pumpkin on the bottom. Work upward, using the smallest pumpkin for the top of the stack.
Design a scarecrow
You do not need a lot of material in order to make a scarecrow for any outdoor decoration. Using a rake as the backbone, pack hay into an old pair of overalls, long sleeve shirt and hat. The rake will also serve as a stabilizing pole if you want to stake the scarecrow to a railing or fence.
Paint a face on a small pumpkin and drill a hole in the bottom of the pumpkin. Place pumpkin on top of the rake and incorporate the scarecrow in a yard scene, or sit it on a patio chair. This can go scary or cute – whatever fall flavor your garden has is up to you!
With a little out-of-the-box thinking and DIY attitude, you will have the most festive home on the block. For more ideas, check out our Fall Décor board on Pinterest!