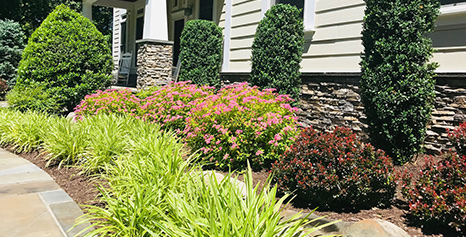 Welcome to Absolute Landscape & Turf Services, where we have been serving the local area for 20 years. We know that when customers are looking for a landscaper, they can, unfortunately, look at price first. We can understand this because you want the most for your money. But if someone asks what your landscaping services look like, is your first response going to be "cheap"? Probably not. So let's look at some other ways to help choose the right landscaper for you.
A professional company. An experienced company does business to benefit its reputation, which means the basics of professionalism should be adhered to – on time, excellent communication, transparent pricing, and more. If you've worked with a landscaper that doesn't take pride in their professionalism, you've probably experienced unanswered calls, no-shows, inconvenient scheduling, and more.
On-going care. The trees, bushes, grass, and every living thing requires regular maintenance. For example, a bush that gets out of control can start brushing against your home. A tree will look scraggly. Grass will begin to go to seed and more. Your original landscaping was an investment, and a great landscaper will be looking for a long-term relationship, so they'll be committed to keeping your yard and investment in great shape.
Experience for your local area. Having the right materials and plants makes a difference in the longevity of your landscape design. Sure there are some trees with fantastic character, but are they going to take the local winters? Will a particular bush start growing out of control and outgrow its space? We're experts at creating landscaping that will last a long time in Howard County, Glenwood, Ellicott City, Glenelg, Sykesville, and Clarksville
Respect your goals and wants. Want to keep maintenance minimal? Looking to avoid pollen or dropping buds? Interested in simple design? Love the look of flowers? A great landscaper will listen to what you want and deliver results above your expectations, not plants they have special deals on or prefer working with for their benefit.
Landscaping is the cornerstone of your curb appeal, and your time is precious. At Absolute Landscape & Turf Services, we understand this and want to create a long-term relationship as your landscaper. This is why we listen to our customers to deliver outstanding results consistently.