Commercial Landscape Maintenance in Ellicott City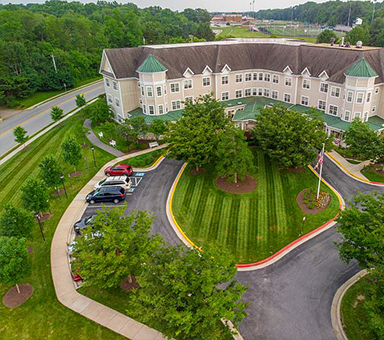 When you have a commercial business, it's important to have a proper commercial landscape maintenance company, to ensure the grounds always looks professional, in Ellicott City. At Absolute Landscape & Turf Services, we pride ourselves on keeping clients' businesses looking their best, with our commercial landscape maintenance program. Since we are a full-service landscape company, we are prepared to handle all facets of your commercial landscaping maintenance. Our goal is to establish a trusted, working relationship with your company, and provide the commercial landscape maintenance service, to keep your business looking fantastic.
Commercial Landscape Maintenance for Businesses in Maryland
Working with your company to provide commercial landscape maintenance is our number one goal. We will discuss the commercial landscape with you, to determine if changes need to be made and how those changes will take place. If you are happy with your current landscape, we can provide commercial landscape maintenance, to keep it looking professional. Whether your property is large or small, we can provide the commercial landscape maintenance you need, so your property always looks professionally kept in Ellicott City. Whatever your commercial property needs, we can do the job that makes it look beautiful. Our team can provide a whole host of services, to keep your commercial property looking spectacular, all year long.
Landscape Maintenance for Your Commercial Property
Our team of dedicated landscape professionals will take care of your business property to make sure it always looks its best in Ellicott City. Our services include landscape renovation. When your landscape needs renovation, we will discuss all the landscape options with you. Our goal is to remove landscaping that no longer works or is dead, to finding new plants, bushes, and flowers that will last and bring beauty to your commercial landscape. We will also provide tree care and maintenance, to keep your trees looking their best, all year long. Our commercial landscape maintenance workers can also install low-voltage landscape lighting, to set the right tone for your business and help keep an eye on the property. We, at Absolute Landscape, can provide all your commercial landscape maintenance needs. Give us a call at 410-489-0655.
Commercial Landscaping Services in Ellicott City and Surrounding areas
Ellicott City is a fantastic city for businesses and residents alike. Just 30 miles away from Washington D.C. is Ellicott City, a city with old-world charm. In this unique setting, there's plenty of dining and shopping to explore. Spend the day walking through the many unique shops, viewing artwork, antiques, bookstores, crafts, and more. When you've had your fill of shopping, head to one of the many restaurants for a delicious meal. Do you own a business in Ellicott City that needs some help with curb appeal? Then we have the right commercial landscaping services for you!
Have a landscaping issue you just can't solve?
We're Here For You
Contact the experts at Absolute Landscape and Turf today!
410-489-0655