Having a standard pool works for some people, but if you are going to the extent to have your own pool at your home in Ellicott City, Westminster, Dayton, Clarksville, Sykesville, Howard County, and the surrounding areas, why not work with a custom pool builder? Absolute Landscape & Turf Services, Inc. have been a custom pool builder for more than 20 years and we do not do cookie-cutter shapes and sizes. We can make a shape that follows the contours of your property, or one that incorporates different areas into the pool such as a splash area for a water slide, a swim up bar for drinks, or other features. Contact our expert team today to learn more about using a custom pool builder for your project.
Pool Patio Design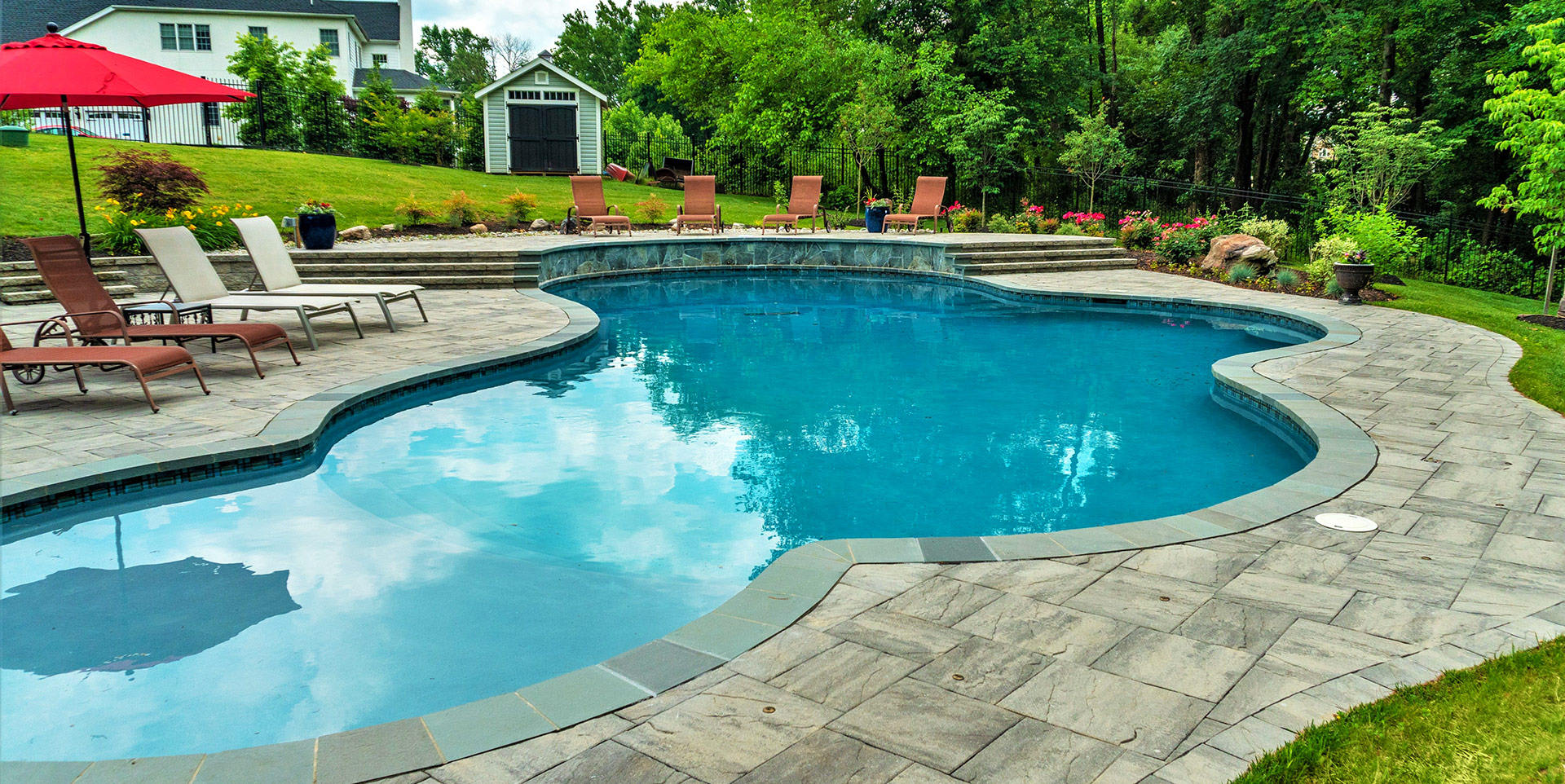 It is not just about the pool, but about what you also put around the pool. Often clients want to have a place for lounge chairs to enjoy the sun and relax outdoors. You want this to match the rest of your outdoor landscaped space with the same concrete or brick. You may want to incorporate a hot tub that connects to your pool or to have a shallow lounge pool area.
Working with a custom pool builder affords clients the ability to add assorted designs to truly make their pool and patio area unique. It can be subtle things such as lighting features or fire features or more impressive features like water fountains and infinity edges. And these will all complement your landscaping and house so that it all looks like it was done at the same time.
High Quality Materials Used for Your Custom Pool
From different stone colors and styles to incorporating other patio features such as fire pits and seating areas, we use only the highest quality materials in everything that we do. We also work with the natural topography of your property to incorporate your design ideas and maintain your landscaping plans that now extend to include your pool and patio area. As your custom pool builder in Ellicott City, Westminster, Dayton, Clarksville, Sykesville, Howard County, and the surrounding areas we can also include other features such as a pavilion for some shade or an outdoor kitchen, so you never have to leave the party.
We have been providing custom pools to our clients for more than 20 years, and we are a start-to-finish project management team as well. This means you only have a single point of contact with us as your custom pool builder. With others you may have to have multiple contractors to handle all of the different aspects of your pool installation, and this can be a nightmare to handle. Contact our team who will manage everything for you.