Deck and Patio Design Services, Composite Decking, and Deck Installation in Howard County, Maryland
Are you looking for a place to embrace the good weather and unwind from a long day? If so, then you need an outdoor area. A well-executed deck and patio design not only increases the value of your home but can offer you invaluable benefits that your family and guests can enjoy.
Absolute Landscape & Turf Services offers composite decking from Trex. Composite decking was designed to match the beauty of wood decking, but not all the maintenance. These high-performance, eco-friendly composite boards withstand years of sun, sleet, and snow, keeping their rich color. Composite decking and railing products from Trex offer a 25-Year Limited Residential Warranty against material defects, and the high-performance lines add an additional layer of coverage with a 25-Year Limited Residential Fade and Stain Warranty.
At Absolute Landscape & Turf Services, we're here to make your patio and deck dreams a reality with customized designs for your Howard County, MD home. Contact us today to request an appointment with a professional about your deck and patio plans!
Ready to improve your outdoor living space?
DECK AND PATIO DESIGN
The installation of a new deck, patio, or pavilion is an investment that will not only add more value to your home but can improve your quality of life at home.
VIEW GALLERY
Deck and Patio Design in Howard County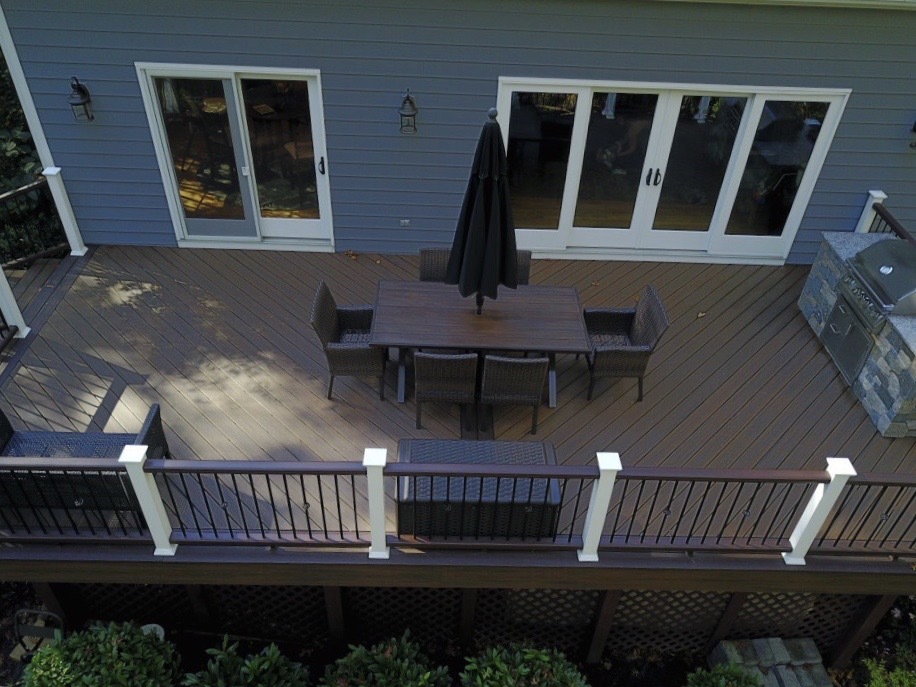 If you're looking into having a deck, pavilion, or patio installed in your home, then you may be tempted to give it the DIY try. We're here to convince you otherwise! While DIY methods for deck and patio design may seem cheaper, they typically waste a lot of time, money, and resources in the long run. Not to mention, if you're not a skilled designer or general contractor, then you'll be left with a mess! Here are some reasons why it's a good idea to hire professionals for deck and patio design/installation services:
Professionalism – The main reason to hire professional deck and patio designers and contractors is professionalism. From reaching deadlines to having the proper tools and experience, we get the job done right.
Time – We deliver patio and deck designs in a timely manner, so you can enjoy your new outdoor area as soon as possible!
Regulations – We uphold the highest standards when it comes to deck installation and design, ensuring that all designs meet building and house regulations.
Deck Installation for Howard County, Maryland and the Surrounding Areas
Ranked in the top 5 best places to live in the state, Howard County, Maryland is known for its prominent communities that combine rural and suburban charms. Recognized nationwide for its schools, sports, libraries, and parks, Howard County is an affluent area that proves ideal for living and/or starting a business. Whether you're just passing through or you're here to stay, Howard County is a great place to be!
At Absolute Landscape & Turf Services, we are proud to provide our patio and deck installation services to the communities in Howard County, MD. With an A+ rating from the BBB and a reputation for excellence dating back to 2001, we're the trusted choice for deck installation services in Howard County, MD. In addition to offering you installation, we also can provide you with regular maintenance to keep your new outdoor area looking its best 24/7.
Looking for the right contractors to install a deck or patio?
We're Here For You
Contact the experts at Absolute Landscape & Turf Services today!
410-489-0655