Deck Installation and Deck and Patio Design in Glenelg, MD
Did you know that an average of 20% of new homes have decks? As such a valuable and attractive feature, you'd think that builders would consider adding deck and patio designs to construction. If your home is amongst the 80% of homes without an adequate outdoor living space or proper hardscaping, we can help you transform your area into a gorgeous outdoor oasis that you, your family, and your guests will love!
With an A+ rating from the BBB and over two decades of experience serving Glenelg, MD homeowners with thoughtful deck and patio designs, we help you transform your home's outdoor area. From all aspects of design to deck installation, we walk you through the entire process, ensuring your satisfaction each step of the way. Get in touch with us today to learn more about how we can make your hardscaping dreams a reality.
Ready to improve your outdoor living space?
DECK AND PATIO DESIGN
The installation of a new deck, patio, or pavilion is an investment that will not only add more value to your home but can improve your quality of life at home.
VIEW GALLERY
Deck Installation in Glenelg, MD
Composite Decking
Composite decking was designed to match the beauty of wood decking, but not all the maintenance. Absolute Landscape & Turf Services offers composite decking from Trex. Trex has perfected the composite deck category with a lineup of low-maintenance, high-performance, eco-friendly products. Composite decking will not rot, warp, crack, or be devoured by termites. So when comparing composite decking vs. wood, there's no competition as to which decking material is best.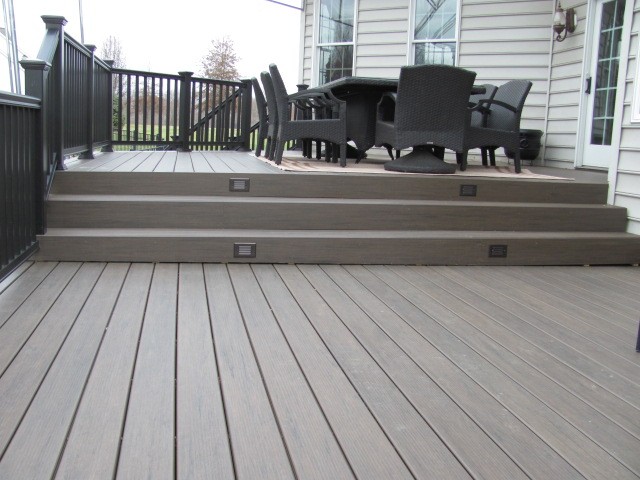 At Absolute Landscape & Turf Services, we make deck installation hassle-free, so you can enjoy your new outdoor area as soon as possible. Offering all services in-house, we streamline the deck installation process and efficiently complete projects with the utmost attention to detail. Plus, we will work with you to find the right materials that fit your design requirements and budget.
Without cutting corners we provide Glenelg homeowners with affordable deck installation including:
Multi-Tier Decks
Wraparound Decks
Detached Decks
Attached Decks
And more!
Deck & Patio Design for Glenelg, Maryland
Located in the charming Howard County, MD, Glenelg embodies quality living and natural beauty. With a small population and rural feel, Glenelg is full of friendly faces and natural landmarks that contribute to its appeal. Just close enough to prominent cities to benefit from its conveniences, and just far away for quiet living, Glenelg is a paradise for its residents. It's no wonder why families and professionals choose to call Glenelg, Maryland their home!
At Absolute Landscape & Turf Services, we're Glenelg's first choice for deck and patio designs and deck installation. With a team of skilled designers, we ensure that you get exactly what you want from your patio and/or deck installation. No matter what you're looking for, we transform your outdoor area into your own slice of paradise using quality materials for all our deck and patio designs. Contact us today to learn more about turning your Glenelg home into a blissful haven.
Looking for the right contractors to install a deck or patio?
We're Here For You
Contact the experts at Absolute Landscape & Turf Services today!
410-489-0655