Homeowners want to have a great outdoor space that provides room for entertaining and enjoying the outdoors without a lot of hassle. The solution that many opt for is a deck installation at their property in Fulton, Highland, Marriotsville, Woodbine, Glenwood, Clarksville, and the surrounding areas. While you might think that doing a deck installation is easy, you will appreciate the knowledge and skill that our team at Absolute Landscape & Turf Services, Inc. provides for any deck installation. Let our team do all the heavy lifting with a deck installation while you enjoy the results. Contact us today to learn more.
Benefits of Adding a Deck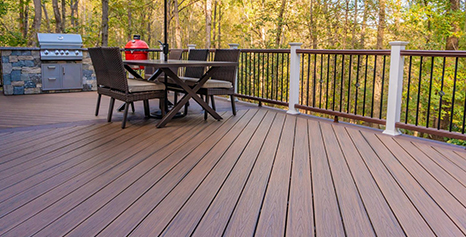 When you have a deck installation done to your home, you will definitely see an increase in the value of your property. And the cost of doing so is much less than doing an addition to your home, so you get a big return for the dollars you invest into a deck installation. You are adding usable space that provides views that you just can't get anywhere else in or around your home. You may also opt to have multiple levels with your deck creating different spaces for different reasons, such as for a hot tub, an eating space, a place for a telescope, or more.
There is something about the outdoors that we want to capture the essence of it while still having the modern amenities that we are all used to. We also want to have space to entertain our friends and family and provide them with the same outdoor beauty and scenery. A proper deck installation will provide you with a great space to entertain as well as your own personal getaway to enjoy the great outdoors.
The Challenges of Deck Installation
Unless you have a strong foundation, your deck will become a wobbly nuisance rather than an outdoor oasis. It is important to get your deck installation started off right with a proper foundation, which may include digging holes and pouring concrete. Once the foundation is done right, then the "bones" of the deck need to be constructed. Using the right materials for your deck installation is also important, as you can't just use any wood and expect a solid final product. And even in the planning stage you will need to ensure that there are stairs, a railing to protect people from falling off, adding strategic seating, and more.
Adding outdoor space at your home in Fulton, Highland, Marriotsville, Woodbine, Glenwood, Clarksville, and the surrounding area can take on many forms, and many times that means adding a deck to the home. When it comes to deck installation, don't let just anyone work on your outdoor project. Get in touch with the best team at Absolute Landscape & Turf Services, Inc. and find out how we can make your deck installation go smoothly. Contact us today to learn more and schedule our team to come and look at your property to get things started.