Featured Project – Viburnum
Pool Patio Design – Outdoor Fire Pit Design – Landscape Renovation
From a stunning new pool patio to landscaping and hardscaping features throughout, this is one spectacular project we are truly proud of.
Watch the Transformation
Pool Patio Deck
Creating a Backyard Oasis From Start to Finish
We were tasked with transforming this backyard blank slate into a total oasis. By the end, this hardscaping and landscape renovation in Howard County was completed with a pool, hot tub, fire pit, outdoor fireplace, multiple walkways, patio spaces, and ample room for seating.
This pool patio design is one of our Howard County favorites. Not only does the Viburnum pool patio design create flow and contrast, but additional details such as waterfall features and a hot tub were added for additional appeal. The results? A tranquil outdoor oasis ideal for entertainment and a peaceful retreat.
Love it? Want it? Need it for yourself?
Outdoor Fire Pit, Outdoor Lighting, and Custom Landscape Walkways
The natural stone outdoor fire pit design is one of the many focal points of this Viburnum project. There is also an additional outdoor fireplace design situated behind the hot tub for extra warmth. Combined, the outdoor fire pit design and outdoor fireplace designs add functional seating and entertainment spaces.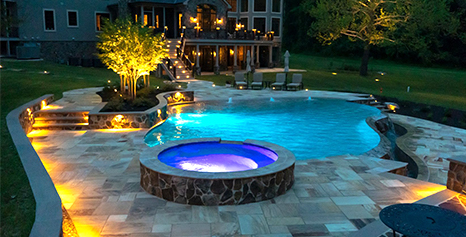 Hardscape lighting is essential to every landscape renovation. For this Viburnum pool patio design, we went above and beyond to create an ambiance with colored, custom outdoor lighting in and around the pool and hot tub areas. These lighting features not only add aesthetic but practical wayfinding functions.
This project also utilized a variety of custom pavers and walkways that tie this breathtaking design together. With the use of natural stone pavers, the patio and walkway hardscaping features of this Howard County project are the foundation of the entire landscape renovation.
Pool Patio Design, Outdoor Fire Pit Design, Landscape Renovation, and More in Howard County and the Surrounding Areas
At Absolute Landscape & Turf Services, we are in the business of transforming your outdoor area into the landscape of your dreams. Combining custom hardscaping and landscape design elements, we ensure that your outdoor area is not only attractive but functional. No matter what your landscape dream is, we make it a reality by working with you from start to finish to ensure your complete satisfaction with your landscape renovation project.
Take our Viburnum project for example. We combined a plethora of custom design elements to create an exterior living space that is ideal for entertaining. This Howard County hardscaping project is completed with a pool patio design, outdoor fire pit design, multiple walkways, and plenty of seating options. Schedule an appointment with us to learn more about pool patio design in Howard County, and the surrounding areas!
Have a landscaping issue you just can't solve?
We're Here For You
Contact the experts at Absolute Landscape and Turf today!
410-489-0655