Hardscaping and Retaining Walls in Howard County, MD
No commercial or residential landscape design in Howard County is complete without some hardscaping. With a focus on the non-botanical elements of your outdoor area, hardscaping can be incorporated in your landscape design, or replace your greenery altogether with a hassle-free design that's easy to maintain. Whatever your preferences may be, we help you create a look that you'll be proud of.
Since 2002, we've been working with homeowners and businesses in Howard County, Maryland, and the surrounding areas. Through thoughtful and innovative hardscaping designs, we help you create customized spaces that are ideal for entertaining guests, enjoying with your family, and impressing your neighbors. Contact us today to chat with our team about your outdoor design dreams.
Retaining Walls in Howard County
Retaining walls are an essential hardscaping option that not only adds an attractive appeal to your outdoor area but serves a range of functional purposes. From holding soil to creating distinguishing barriers between levels and landscaping designs, retaining walls are a great option for any homeowner looking to enhance their outdoor area.
At Absolute Landscape & Turf Services, we create attractive retaining walls from a range of materials that include:
Stone – Stone is a robust and durable material that can be created into a retaining wall for a rustic or modern look, depending on your preferences.
Brick – Brick is a common and inexpensive wall material that can be used to enhance the look and feel of your outdoor area.
Wood – Wood retaining walls are a natural and rustic retaining wall option that creates a warm aesthetic for your backyard and can be cut into any shape to accommodate your needs.
Concrete – Concrete can be placed in blocks or poured for an affordable and easily-installed wall solution for your yard.
Plastic – Plastic retaining walls, typically created to look like lumber, can withstand harsh conditions and provide appeal.
Hardscaping in Howard County, Maryland
At Absolute Landscape & Turf Services, we assist residents in Howard County, and the surrounding areas to improve their outdoor area through professional hardscaping services. From expanding your outdoor living area, adding a charming gazebo, to creating cobblestone pathways, and more, we use quality materials and our keen eye for design to make your outdoor hardscaping the envy of the neighborhood. Our hardscaping options include walkways, patios, retaining walls, water features, ponds, driveways, fire pits, and more!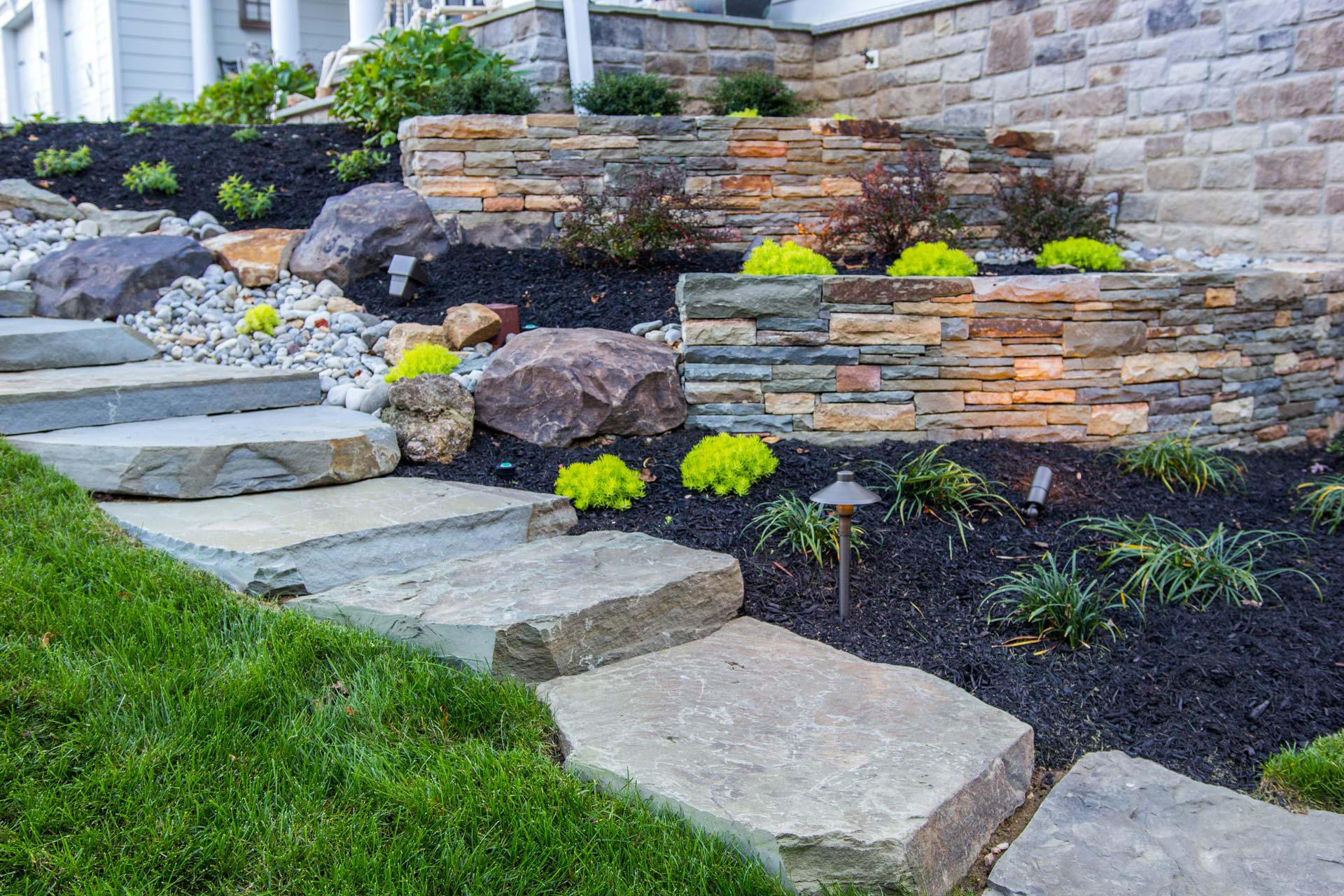 With impressive school systems, plenty of options in indoor and outdoor entertainment, and attractive real estate options, Howard County, MD is a great place to work and raise a family. While Howard County homes with upward of 300k residents, homeowners can find solace in private properties with ample outdoor space, perfect for landscaping.
Have a landscaping issue you just can't solve?
We're Here For You
Contact the experts at Absolute Landscape and Turf today!
410-489-0655