Landscape Design, and Landscape Installation in Sykesville, MD
Sykesville homeowners thinking about expanding their outdoor space with a new landscape design call our trusted professionals at Absolute Landscaping & Turf Services, Inc. Serving clients in Sykesville and the surrounding areas for almost two decades, our landscape design consultants will work with you to design, plan, and install your perfect outdoor living space. We believe communication is a key ingredient to a successful project, so we make sure you are kept in the loop from the very first meeting until the final walkthrough.
Landscape Installation in Sykesville
Once you've worked with our designers outlining your ideas down on paper, it's time to bring them to life during your landscape installation. Your project manager will oversee every detail of the installation at your Sykesville home and communicate each step to you, starting with your review and approval of the final design plan. Once approved, we will order the needed materials. For every project, Absolute Landscape only works with high quality materials, which will withstand the elements, so your landscape installation will look fabulous for years to come. Your project manager will schedule your landscape installation and follow through until it's complete. Throughout the entire process, you will always have two points of contact consisting of your project manager and your sales representative.
Landscape Design Services in Sykesville, Maryland
Our landscape consultants at Absolute Landscape incorporate balance throughout each landscape design project. Using plants, trees, and bushes, along with hardscaping, such as pavers, and patios, our landscape designers will create an aesthetic flow around your entire property, for a seamless look. Installing retaining walls and hardscape elements add contrast to your landscape design and provide depth and a professional look to your landscape installation.
We want you to be absolutely satisfied with your landscape design and enjoy it for many years. For more information on landscape design and landscape installation in Sykesville, Maryland send us a message online.
Sykesville, Maryland is an outdoor enthusiast's playground. There's fun for the whole family. Kids can enjoy free train rides on a 1949 miniature train at The Little Sykes Railway Park. If you're looking for more adventure, try tubing down the Patapsco River. For a more laid back afternoon, cast a fishing line and fish for smallmouth bass, rock bass, and hog suckers.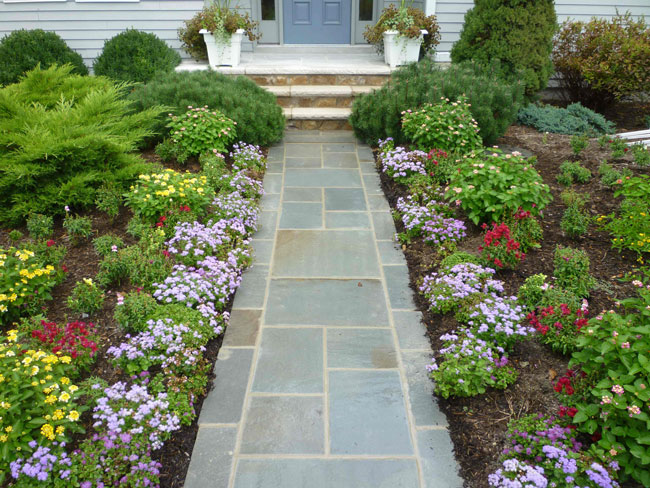 Have a landscaping issue you just can't solve?
We're Here For You
Contact the experts at Absolute Landscape and Turf today!
410-489-0655