Landscape Installation in Ellicott City, MD
Transforming your property in Ellicott City is a job better left to our professionals at Absolute Landscape & Turf Services, Inc. For almost two decades, our landscape installation team has worked with homeowners and businesses, alike, to create the outdoor landscape of their dreams. You will work with our landscape designers to create a design plan and stay within your budget.
Landscape Design in Ellicott City
Taking into consideration the warm summers and windy, cold winters in Ellicott City, our landscape designers will create an outdoor plan that endures every season. Our staff at Absolute Landscape will work with your ideas and create a landscape design that encompasses the whole outdoor area, not just one section. Flow in design and aesthetics is the mark of professional landscape design and installation. Once we complete your landscape design and installation, we will introduce you to our maintenance and care contracts. We can maintain your new landscaping, which leaves you free to enjoy all the beauty of your property, without all the upkeep.
Landscape Installation Services in Ellicott City, Maryland
When our landscape installation specialists arrive on your property they will oversee the entire project, from beginning to final walk through. We always use high quality products that will withstand the elements for years. When a landscape installation involves complex decks, pavilions or retaining walls, we may use the services of architects, who will recommend certain products and materials. We pride ourselves on open communication with all our clients. For your project, you will have a project manager, who will keep you up to date with all aspects of your landscape installation. Your sales representative will also be available to answer any questions throughout the entire project.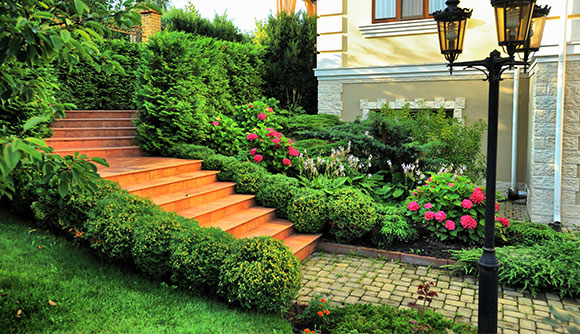 Each landscape installation is carried out in phases to ensure every detail is completed and runs smoothly. Upon completion, we will walk through your installation to make sure you are completely satisfied. For more information on landscape installation in Ellicott City
contact Absolute Landscape & Turf Services Inc
.
History buffs and train enthusiasts should visit the B&O Ellicott City Station Museum. It's considered to be the oldest train station in America. Once used to transport troops and supplies during the Civil War for the Union. The station is recognized on the National Register of Historic Places. For outdoor fun visit Clark's Elioak Farm. Explore their petting farm, go on a pony ride, hay wagon ride, or even a cow train ride.
Have a landscaping issue you just can't solve?
We're Here For You
Contact the experts at Absolute Landscape and Turf today!
410-489-0655