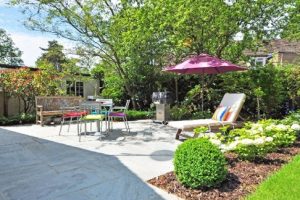 If you've been counting down the days like we have, then you know the official start of summer is right around the corner! You may be ready for backyard BBQs and outdoor games, but is your landscape?
With a little discipline, sweat equity and help from our experts, you can keep your landscape looking gorgeous all summer long.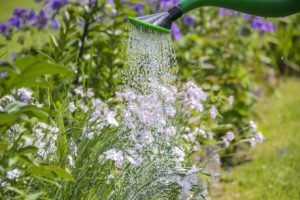 Watering
During the hot, dry months of summer, watering your plants and grass is an essential step in maintaining a healthy looking lawn. Creating a watering schedule is crucial during extreme heat and will help you stay consistent. The best time of day to water is early morning when the air is cooler and there's less chance of the water evaporating before the plant can absorb it. Find a time that's best for you and work it into your morning routine… maybe pull out the hose while you're enjoying your coffee?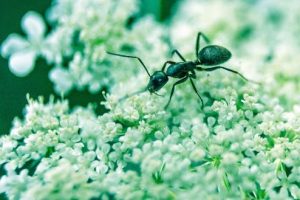 Pest Control
We Marylanders are used to dealing with unwanted guests at our outdoor gatherings. Party crashers such as flies, ants, and mosquitoes are especially annoying this time of year. Take control of your yard by taking some precautions.
Get rid of debris around your yard and home on a weekly basis. Pests love dark, moist places, and stick piles or dead leaves provide the perfect hiding spots.
Remove standing water from your yard, such as buckets or outdoor furniture covers to avoid mosquitoes having their own party.
Avoid leaving any food outdoors for long periods of time. Set up the buffet inside and let people fill their plate before going outdoors. If you do leave munchies on your deck or patio, be sure to keep them covered.
Clean your grill regularly – pests love to eat the leftovers from those juicy burgers or steaks.
Another place pests love to feast is in your garden. Believe it or not, there are actually pests that could be considered "Garden Guardians" who prey on destructive insects. For instance, ladybugs feed on aphids and dragonflies swoop in to capture mosquitoes and midges. Let us help you choose your plants wisely by including those that attract the good bugs and avoiding those that are more prone to pest damage. Regardless of the plant species, insects love feeding on dying foliage so keep your plants healthy!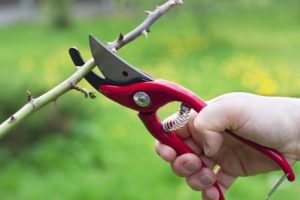 Pruning
image from https://www.gardendesign.com/roses/pruning.html
Of course you want your plants to flourish in the summertime, but sometimes they thrive a little too much. Pruning your bushes and trees helps control the growth of your landscape and increase curb appeal.
Pay special attention to the greenery surrounding your home. Plants that grow too close to your house need to be pruned to prevent damage to your foundation or siding. They also offer a nice sturdy bridge for pests to cross from the ground to windows and doors.
Speaking of bridges, you've probably seen how nimble squirrels can be hopping from tree to tree. Any limbs that hang close to your home will lead them squarely onto your roof or into your attic. Be sure to keep branches away from your house. On the other end of the spectrum, limbs on weeping trees can begin to touch the ground and should be trimmed to lessen the chance of disease and insect infestation. Prune your trees sparingly if plants surround the base – branches and leaves keep plants shaded and cooler in the hot summer weather.
Pruning is an essential part of landscape maintenance, but can also be a dangerous one. Our experts have the right equipment to safely and properly trim your trees to be both healthy and aesthetically pleasing.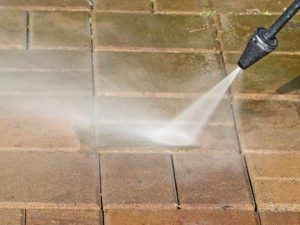 Cleaning
image from https://www.gardendesign.com/roses/pruning.html
You're probably used to straightening your home in preparation for company, but what about outdoor cleaning? To prepare for backyard hangouts, be sure your outdoor space is just as spic and span as your indoor. Sweep patios and walkways to remove any debris and follow up with a good scrub. Get your outdoor furniture ready for use by cleaning it with mild soap and hosing it down to rinse.
Spruce up a dull patio or porch with a few container gardens or potted plants. Although having an endlessly green lawn is certainly desirable, color is needed to liven up the view. Our designers can create a unique design that will give your guests something to rave about, while fitting within your style and budget.
Household chores are never fun, and can be especially hard to complete when the pool or grill is calling your name. Absolute Landscape is here to give you your weekends back. Let us do the heavy lifting so all you have to do is enjoy. Contact one of our experts here to get started!