Do you have a big sprawling outdoor in front of your house? Well, you should consider it to be a blessing because not everybody has such a big space for their benefit. There are various ways you can design and decorate this area. While it definitely improves the aesthetic aspect of your home exterior, it also adds more value to your property. You can use the space as a lawn, create a big driveway, or simply have a pool or some water feature in the backyard. You might also design a patio and enjoy a lovely cup of coffee in the morning. But you must build the patio properly and add pavers to the patio for better grip while walking and to enhance its beauty. We, at Absolute Landscape & Turf Services, can be the right choice for you. We are an experienced and established company which brings you high-quality landscape design and maintenance services and even landscaping elements like landscape patio pavers, water features, fire pits, etc. So, if you are from areas like Clarksville, MD, Dayton, MD, Ellicott City, Glenelg, Glenwood, MD, or Sykesville, you can opt for us.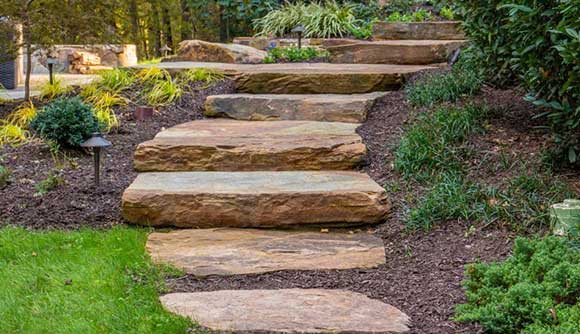 Here, we have put together a few things to check about the landscape patio pavers before purchasing. Take a look.
First of all, you should check the quality of the patio pavers and make sure these are made of good quality materials that last for long. If these wear away or breaks down, then both the beauty and value of your landscape will be destroyed.
Another thing to check about the patio pavers is their price. You must ensure that these are suitable for your budget. Try to get estimated quotes from different companies and then compare them to choose wisely.
And if you are thinking of choosing our patio pavers, then contact us today.