Landscape Patio Pavers, Patio Walkways, and Landscape Walkways in Ellicott City, MD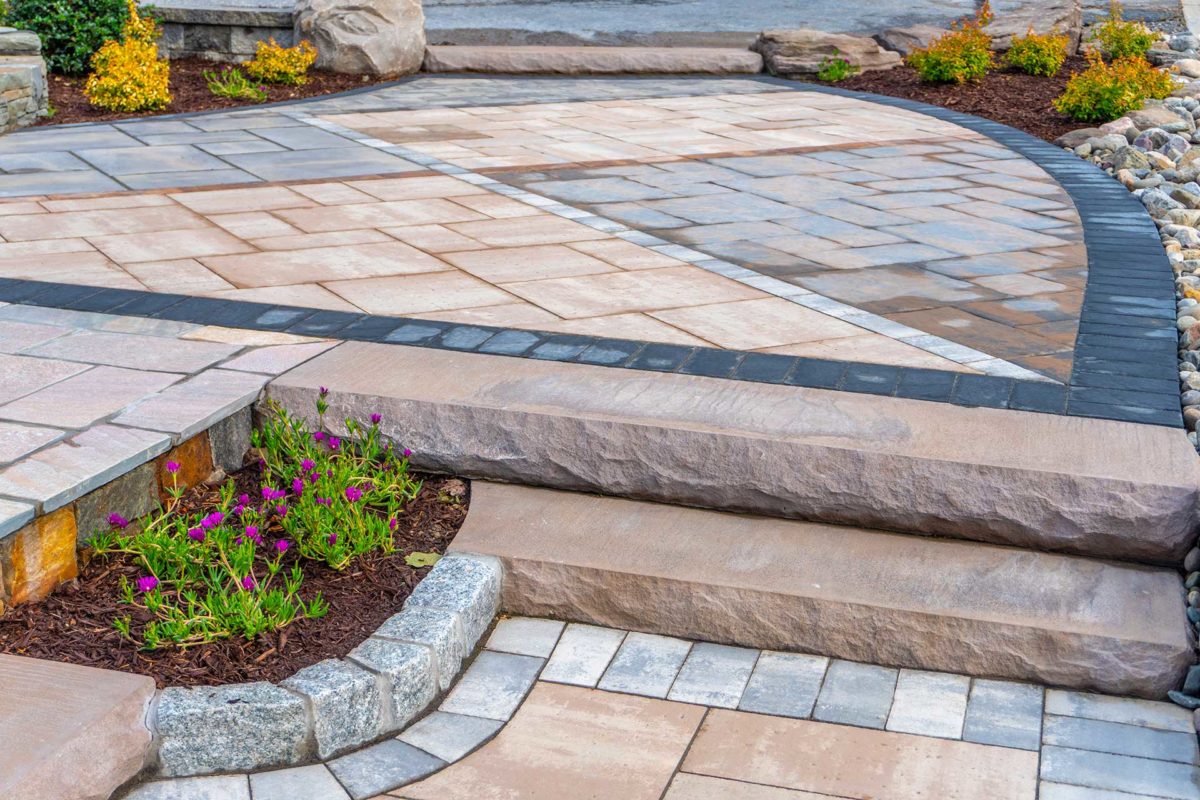 When you are ready to install landscape patio pavers, patio walkways or landscape walkways, turn to the professionals at Absolute Landscape & Turf Services, Inc. We work with a variety of pavers that will create unique looks based on your overall vision for your space. Our team holds certifications for installations from Interlocking Concrete Paving Institute (ICPI) and the National Concrete Masonry Association (NCMA). Since 2001, our family-owned business has been installing patio walkways, paver and stone walkways and landscape patio pavers for satisfied customers in Ellicott City and the surrounding areas.
Landscape Patio Pavers for Ellicott City Residents
Each design plan has a specific look and charm. Choosing the right pavers for your patio or paving stone installation will determine that look and feel of your space. You can choose from brick pavers, concrete pavers, permeable pavers, and natural stone pavers. Each with their own distinctive look will create an upscale patio design. Pavers can be used in many places such as:
Patios
Driveways
Pool Patios
Walkways
Retaining Walls
Pavers come in many styles, from antique to modern and are available in many different colors, textures and sizes. Our staff takes great care when planning and designing landscape patio paver walkways and paving stone installations in Ellicott City. The first step is assessing the space for the scope of the work, then we level and compact the ground. After the ground is set, we lay the pavers in the planned pattern and once again pack them down, ensuring they are evenly placed and sturdy.

Patio Walkways in Ellicott City
We create paver and stone landscape walkways from durable and visually pleasing materials, which will last for years to come. They can be used anywhere around the home, enhancing the overall look of your outdoor space and create safe paver walkways for friends and family to enjoy. Paver and stone landscape walkways can be made from a variety of materials such as:
Pavers
Brick
Stone
Flagstone
Travertine
Limestone
Slate
Permeable
Our staff is available to answer any questions and guide you through your decision of which pavers you should use for your project. Pavers for landscape walkways are a durable, stylish choice for homes in Ellicott City. For more information on patio walkways, landscape walkways and landscape patio pavers in Ellicott City visit, https://absolutescapes.com/.

Ellicott City Landscape Walkways
Immerse yourself in old-world charm when you visit Ellicott City. Founded in 1772, the city offers shopping and dining destinations, as well as historic buildings. For a look at the past, visit the B & O Ellicott City Station Museum. This was the very first train station in America and it is the oldest surviving train station. During the civil war, this station was used to transport supplies and troops for the Union. In the 1970's it became a museum and is listed under the National Register of Historic Places.
Ready to discuss your next exterior project?
OUR LANDSCAPE DESIGNERS ARE EXCITED TO MEET WITH YOU!
CALL: 410-489-0655