Landscape Walkways, Patio Walkways, and Landscape Patio Pavers in Clarksville, MD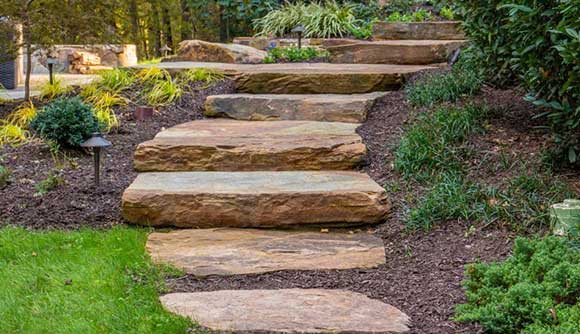 Landscape walkways, landscape patio pavers, and patio walkways are a great way to enhance your outdoor property in Clarksville. At Absolute Landscape & Turf Services, Inc., we can add value and character to your home by creating stylish and functional paver walkways. Let our staff assist you with every step of your patio, patio walkway, and landscape walkway project. For almost twenty years, our family-owned business has been creating functional, stylish, and safe paver patios, paver walkways, and landscaped walkways for satisfied customers in Clarksville.
Landscape Patio Pavers in Clarksville
At Absolute Landscape & Turf Services, we have a wide variety of natural stone and interlocking concrete pavers. They come in a variety of colors, textures, and sizes. Whether you want a natural-looking stone or paver patio walkway or one that makes a statement, we can make your vision a reality. We will plan and design how your walkways will connect, creating a seamless path from the walkway to the patio or from back to the front yard. We think about the big picture because we want you to be absolutely satisfied with our work.

Clarksville Landscape Walkways
An affordable way to enhance the look of your outdoors is the addition of pavers, paving stone installations, and landscape walkways. The beauty of pavers and paving stone is that they can be installed anywhere around your home in Clarksville. At Absolute Landscape & Turf Services, we can enhance the overall look of your outdoor space at a reasonable price. Pavers are a safe way to create walkways for friends and family to enjoy. Paver and paving stone landscape walkways can be designed from a variety of materials such as:
Pavers
Brick
Stone
Flagstone
Travertine
Limestone
Slate
Permeable
Can't decide which pavers are best for your project? Not to worry, because our knowledgeable staff is here to guide you and answer all your questions. Pavers for landscape walkways are a durable, stylish choice for homes in Clarksville. For more information on patio walkways, landscape walkways, and landscape patio pavers in Clarksville visit, https://absolutescapes.com/.

Patio Walkways for Clarksville Residents
Clarksville, MD located in central Maryland, is a great home base for exploring. Visit the Robinson Nature Center for hikes on paved pathways and rugged terrain. Little ones will love to explore and discover all that nature offers at the Nature Place, an outdoor activity center for children. After a long day, unwind at one of the many bistros, cafes, and taverns offering farm to table dishes.



Ready to discuss your next exterior project?
OUR LANDSCAPE DESIGNERS ARE EXCITED TO MEET WITH YOU!
CALL: 410-489-0655