Landscape Walkways, Patio Walkways, and Landscape Patio Pavers in Glenwood, MD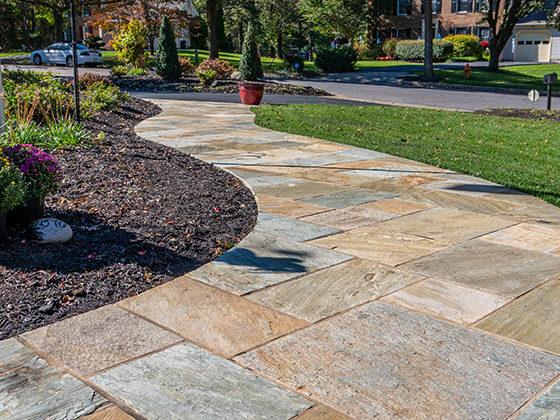 Landscape walkways, landscape patio pavers, and patio walkways are a great way to enhance your outdoor property in Glenwood. At Absolute Landscape & Turf Services, Inc., we can add value and character to your home by creating stylish and functional paver walkways. Let our staff assist you with every step of your patio, patio walkway, and landscape walkway project. For almost twenty years, our family-owned business has been creating functional, stylish, and safe paver patios, paver walkways, and landscape walkways for satisfied customers in Glenwood.
Patio Walkways in Glenwood
We offer homeowners many options when it comes to choosing stone and paver walkways. At Absolute Landscape & Turf Services, we have a wide variety of natural stone and interlocking concrete pavers. No matter your style, we have pavers that come in a variety of colors and textures. Whether you want a bold stone or paver patio walkway or one that blends with nature, we can bring your vision to life. Our staff will work with you to understand your style. We will plan where your walkways will connect, so we can create a seamless path from the walkway to the patio or from back to the front yard. We think about the big picture because we want you to be absolutely satisfied with our work.

Landscape Walkways for Glenwood Residents
Whatever your design style, we have the pavers for your project. You can choose from brick pavers, concrete pavers, permeable pavers and natural stone pavers. Each has its own unique look and will create an upscale patio design for your project. Pavers can be used for:
Patios
Driveways
Pool Patios
Walkways
Retaining Walls
Whether you are looking for antique pavers, modern style pavers, and everything in between, we have what you need. Pavers are available in many different colors, textures, and sizes. Our staff takes great pride in planning and designing paving stone installations and landscape patio paver walkways in Glenwood. We are meticulous in our process and will assess your outdoor space for the scope of the work desired. After we level and compact the ground, we lay the pavers in the desired pattern and once again pack them down, ensuring they are evenly placed and sturdy. Once our work is done, you can enjoy your outdoor space for years to come. For more information on patio walkways, landscape walkways, and landscape patio pavers in Glenwood visit, https://absolutescapes.com/.

Glenwood Landscape Patio Pavers
When the outdoors call you, head over to Warfield Pond Park. Called a neighborhood park, this 20-acre oasis has a variety of wildlife to view. Walk along the boardwalk built around the pond and catch a glimpse of turtles and amphibians. Bring a rod and spend a few hours fishing or bring the family dog for a romp around the fields.



Ready to discuss your next exterior project?
OUR LANDSCAPE DESIGNERS ARE EXCITED TO MEET WITH YOU!
CALL: 410-489-0655