What are the 4 Elements of Landscape Design?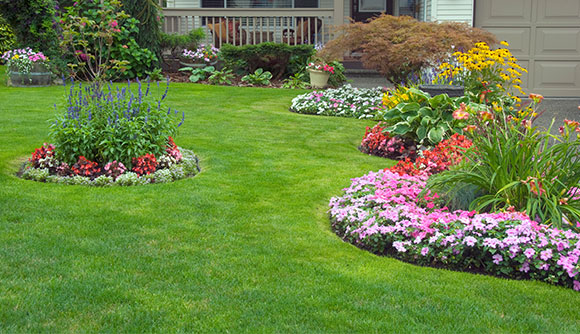 When it comes to professional landscape design there are a few important factors that must be considered for optimal landscape results: balance, lines & flow, contrast & interest, and repetition. These important elements come together to create attractive landscapes that are not only aesthetically pleasing but functional. While the obvious benefit of hiring a landscaper for landscape installation is beauty, there's a lot of thought and planning put into the design to create the ideal landscape that enhances the look and value of properties.
At Absolute Landscape & Turf Services, we have over 20 years of experience providing landscape design services to Clarksville, Ellicott City, Glenelg, Glenwood, Howard County, MD, and the surrounding areas.
Understanding the Elements of Landscape Design
By paying attention to the details, and understanding the importance of landscape function, our landscapers create one-of-a-kind spaces using the four important elements of landscape design, which include:


Balance
Balance: A state of equalized tension and equilibrium. Balance in visual design may include symmetry and asymmetry.
Creating balance is one of the many challenges of landscape design, however, it is of utmost importance. Balance incorporates the whole picture to ensure that landscapes not only look great from all angles but make sense within a property's structure.


Lines & Flow
Lines & Flow: The line is an element of art defined by a point moving in space. Lines can be vertical, horizontal, diagonal, or curved, and can be any width or texture.
Using hardscaping materials/methods such as water features, patio, decks, and pavers, landscape designers merge areas together to create aesthetic flow and appeal. Lines and flow are what bring the different landscaping elements together.


Repetition
Repetition: The use of the same motif multiple times. When a motif is repeated over and over again, it results in a pattern.
Landscape designers use the idea of repetition to repeat patterns and elements for a familiar and consistent appearance that looks professional and orderly.


Contrast & Interest
Contrast & Interest: When the design deviates from the repeated elements, you create contrast. Contrasting elements make the focal point stand out.
Attractive landscape designs include contrast and interest that give texture/depth to landscapes. Through the use of retaining walls, shrubs, trees, hardscaping, and other unique features, landscapers can enhance even the most simple outdoor area.

Landscape Installation
By combining the four elements of landscape design, we help homeowners and businesses transform their outdoor space into a haven of relaxation. But we don't just stop at landscaping! We also provide a range of other property services to enhance outdoor areas. We offer composite deck installation, patio paver installation, outdoor kitchen installation, and more, we're the number one choice for outdoor enhancements and landscape installation throughout Clarksville, Ellicott City, Glenwood, MD and the surrounding areas.
Looking for the right contractors for landscaping services?
We're Here For You
Contact the experts at Absolute Landscape & Turf Services today!
410-489-0655