What are the Benefits of Lawn Aeration and Regular Landscape Maintenance?
At Absolute Landscape & Turf Services, not only can we create unique and stunning landscape designs, but we can maintain them ongoing. We offer landscape maintenance in Howard County, Glenelg, Glenwood, Ellicott City, Dayton, MD, and the surrounding areas. Our lawn aeration and landscape maintenance professionals go above and beyond to ensure our clients' complete satisfaction 365 days a year. With the proper tools and experience, we keep landscapes in their best shape to ensure that your outdoor areas are always meeting your needs.
Aeration is one aspect of lawn maintenance many homeowners have heard about but they often don't know the numerous benefits of lawn aeration. To help out the homeowners in our community, we have compiled this list of the benefits of aeration, how it is accomplished, and some other helpful advantages of ongoing landscape maintenance procedures.
Benefits of Lawn Aeration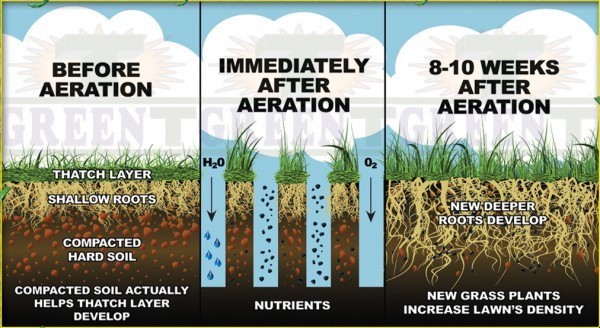 Lawn aeration is a restorative landscaping service that increases airflow to the soil through the process of strategically poking holes in lawns to release carbon dioxide. This air circulation process can restore the negative effects of summer heat, toil, and other standard wear and tear. Here are some of the many benefits of lawn aeration: Thatch management, decreased density, improved soil nutrients, reduced puddling, and fall/winter lawn readiness.
#1 Thatch Management
Lawn aeration combats thatch by bringing decomposing microorganisms to the surface, leading to the breakdown of dead grass.
#2 Breaks Down Soil
Aeration treatments break down compact soil build-up to decrease density and improve soil health.
#3 Increased Nutrients
Lawn aeration allows nutrients to penetrate soils, leading to deep root impact that makes your lawn richer and more fertilized.
#4 Reduced Puddling
Aeration can reduce runoff and puddling that may occur after a storm or heavy rainfall.
#5 Fall Preparation
Lawn aeration can prepare your lawn for the fall months by adding an additional layer of protection against stress, preventing grass from going dormant in the winter.
Benefits of Regular Landscape Maintenance
From seasonal changes to everyday wear and tear, landscapes are vulnerable to a range of everyday elements that can tarnish the look, feel, and function of outdoor spaces. Keeping up on regular landscape maintenance ensures immaculate year-round landscape designs. This can have a range of benefits including increased safety, weed control, environmental benefits, and increased property value.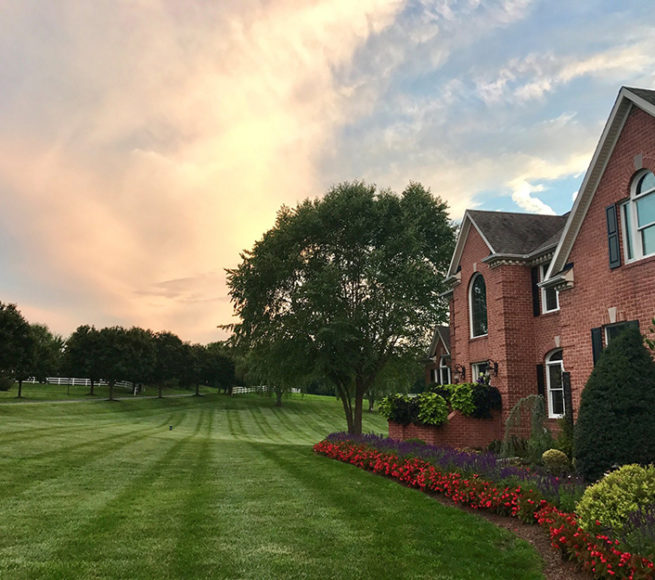 #1 Safety
Overgrown shrubs, trees, and other plants are not only an eyesore but can be a safety hazard, leading potentially to increased fire spreading. Animal holes and extruding roots may also cause a fall hazard.
#2 Weed Control
Weed growth leads to poor grass and plant health, which can decrease curbside appeal and leave properties looking drab and dull.
#3 Environment
Maintenance and other landscaping services have a range of environmental benefits including reduced pollution, increased oxygen, energy conservation benefits, improved air quality, and more!
#4 Property Value
Consistent landscape maintenance can increase property resale value by ensuring a neat and tidy curb appeal.
Looking for the right contractors for landscaping services?
We're Here For You
Contact the experts at Absolute Landscape & Turf Services today!
410-489-0655