Can You Mix Natural Stone with Man-Made Pavers in Ellicott City, Clarksville, Glenwood, Glenelg, Howard County, MD, and the Surrounding Areas?
This is a common question that we receive from our customers who are unsure if a combination of paver and natural stone will look good together or clash.
It all comes down to a good design following good design rules that integrate the different materials harmoniously.
It is possible to beautifully integrate both natural stones as well as man-made pavers to create a stunning finished product. From landscape patio pavers to patio pool pavers, using man-made pavers with natural stone pavers shouldn't be automatically dismissed.
Knowing The Right Design Tricks
When working with different materials for your patio, pool, or other space, using a design element two or three times in the entire project is appropriate without being overwhelming visually.
It also helps to have a different color paver to use as a border or a way to define different areas of the landscaping.
With a careful eye, using complementary colors of natural stone along with man-made options can produce a visually appealing space that all works together. Without these design principles, the result could appear disconnected or busy.
What's the difference between natural stone and man-made pavers?
Natural stone pavers are cut from quarried rock, while man-made pavers are manufactured from concrete or other synthetic materials.
Learn more about these materials below. Questions? Contact us today for immediate assistance.
Natural Stone
Natural stone is a material extracted from the earth and shaped into pavers without any synthetic alterations, offering unique textures and colors that vary from piece to piece. Natural stone pavers are commonly used in pool patios, walkways, and other landscaping features for their aesthetic appeal and ability to blend seamlessly with the natural environment.
Man-Made Pavers
Man-made pavers are manufactured from concrete, clay, porcelain, or other synthetic materials, and they offer a uniform appearance with a wide range of colors and shapes. These pavers are popular for use in pool patios, walkways, and other landscaping features due to their cost-effectiveness, low maintenance, and design versatility.
It's More Than Just The Materials
Yes, the materials are a big part of what your outdoor space looks like. But unless you have some experience in blending everything together, you will be struggling to make them all work. It's more than just the beautiful natural stone that you use or the patio pavers that you select for the walkways and patio. The real goal is to utilize complementary materials that all serve a purpose while at the same time blending together for the entire property.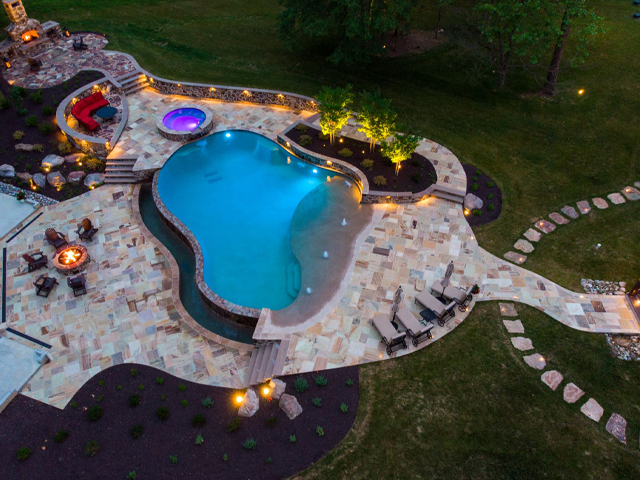 Pool Patios: The environs of your pool are not just for swimming; they're a statement of luxury and comfort. A blend of man-made pavers and natural stone is great for a pool patio as there are many places for design features to shine, allowing for multiple materials to be used cohesively.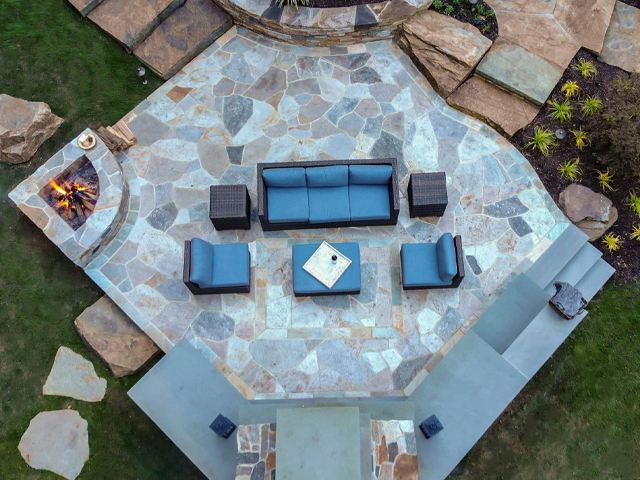 Outdoor Living Spaces: Whether it's an outdoor dining area or a secluded spot for morning coffee, patios are versatile spaces. The use of natural stone, man-made pavers, or a combination of both can achieve a stunning look when designed thoughtfully.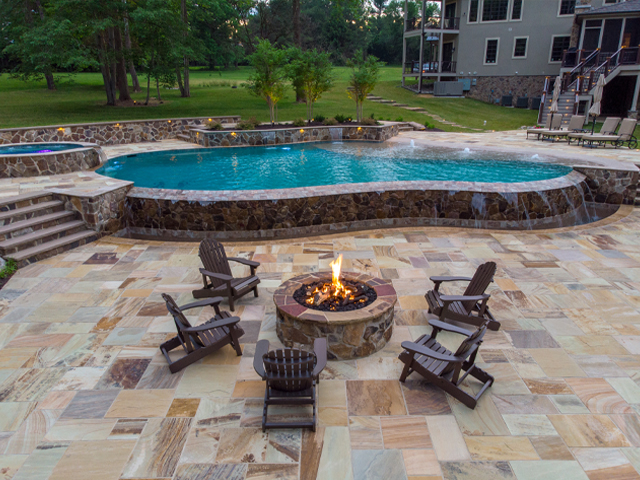 Hardscaping Features, Fire Pits, and Fireplaces: From retaining walls to fire pits and fireplaces, hardscaping brings both structure and functionality to your grand estate. In these applications, utilizing a combination of materials can create a much more interesting and beautiful design overall.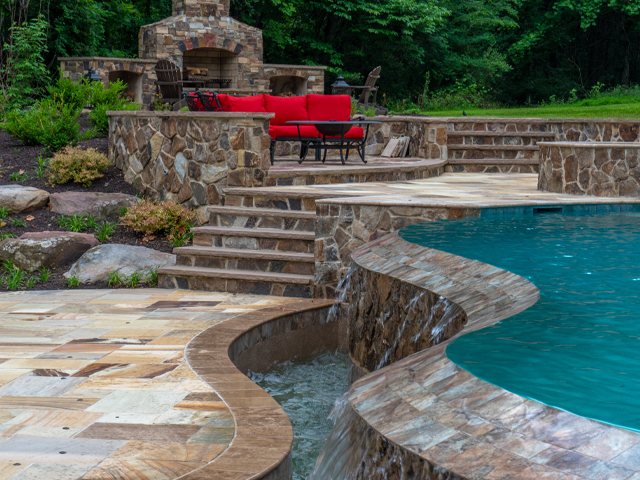 Steps, Walkways, and Water Features: The journey across your magnificent estate should be as luxurious as the destination, including serene water elements. For steps, walkways, and water features, we often recommend a harmonious blend of materials.
Looking for a landscaper near you?
We're Here For You
Contact the experts at Absolute Landscape & Turf Services today!
410-489-0655