Landscaping in Howard County, MD, for Commercial Businesses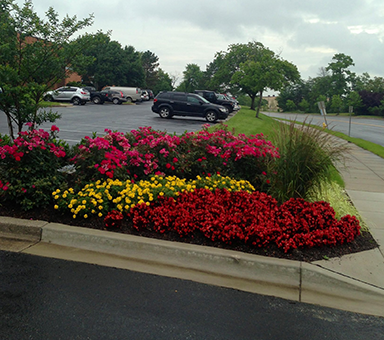 When you need landscaping in Howard County, MD, look to Absolute Landscape & Turf Services for all your needs. We are a full-service landscaping company and our goal is to keep all our clients happy, by providing top-notch service. Whatever your landscaping needs, we can provide the services to make your landscaping look fantastic, all year round. Our goal is to add beauty to your outdoor landscaping, along with functionality. All our landscaping experts truly enjoy their jobs, which means they provide quality work, for each of the businesses throughout Howard County, MD.
Howard County, MD, Landscaping for Commercial Businesses
Our staff is available to work with you to bring your commercial landscaping to life in Howard County, MD. Whether you have a landscaping design in mind, or you'd like us to plan one for you, we will bring all your landscaping ideas to life and create an outdoor area that improves your business' curb appeal. The best way to make your landscaping look full and fresh is to use local shrubbery and plants, which will provide a natural look to your business. If you have certain plants and shrubs in mind, we can incorporate those into your landscape design as well. With over 20 years in landscaping design, we understand what will work for your property and how to maintain it.
Commercial Business Landscaping in Howard County, MD
Our landscape professionals understand the importance of taking care of your commercial business property. We strive to maintain a strong working relationship with you, our client, so we can discuss any changes that will be made, understand what you would like to see in your commercial business landscaping, and stay within your budget. Our goal is to provide the best commercial business landscaping for your company. For more information on commercial business landscaping in Howard County, MD, call 410-489-0655.
Landscaping Services in The Howard County Area
Live, work, and play the Howard County way! Why visit a zoo, when you could go to an alpaca farm and see a multitude of unique animals, taken care of by one family. Breezy Hills Farms has 50 alpacas, exotic chickens, peacocks, and goats. Enjoy hands-on activities or check out their store, which features all natural alpaca fiber and clothing products made from the alpacas. It's a great day for the whole family. Whether you are a resident or a business owner in Howard County, Absolute Landscape is here to offer the best in landscaping installation and services!
Have a landscaping issue you just can't solve?
We're Here For You
Contact the experts at Absolute Landscape and Turf today!
410-489-0655