Landscaping Services in Ellicott City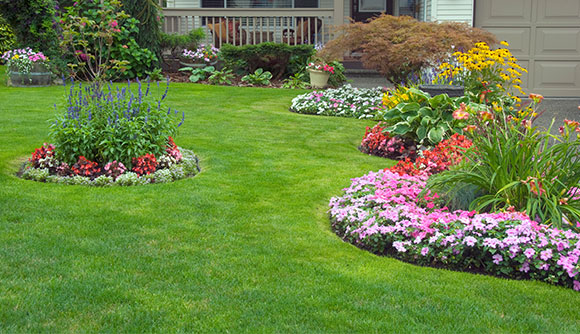 Creating unique landscapes is our passion, at Absolute Landscape & Turf Services. We work with individuals to bring their design ideas to life with our landscaping services. We are known for creating peaceful, natural outdoor spaces through our landscaping services. Whether you need a large part of your property serviced or a smaller portion, our landscaping services can't be beaten. Our goal is to improve your landscape and make the outside of your home the place you want to spend most of your time.
Landscape Design for a Better Outdoor Space
We offer multiple landscaping services to improve your outdoor space. From landscape design to landscape renovations, we will plan the look you want and create it for your outdoor space including, removing dead bushes and plants and replacing them with new, vibrant ones. If your trees and shrubs need attention, we will trim them and clean them, bringing them back to their original beauty. When your lawn looks thin and spotty, we will replace it with sod or seeds, to bring it back to its full potential. Once the new lawn is in, along with the new bushes and plants, we can begin to put in the annual and seasonal flowers. Whatever your landscaping services needs are, we can provide the work needed to bring your landscape back to life.
We provide landscaping services for items you may not even think of when it comes to making your landscaping look beautiful. One of the overlooked items, when planning your landscaping design is drainage solutions. Our staff will work with you and discuss drainage solutions when planning your landscaping services for your outdoor space. You want to have the proper drainage for your landscape designs, in order to have your plants, bushes, and grass growing well. In addition to proper drainage, it's important to have landscape pest control as part of your landscaping services. You will want to make sure animals aren't eating your beautiful new plants, shrubs, and flowers. We make sure your landscaping services are carried out all year long, to create a beautiful and healthy outdoor space.
Landscaping Services for Ellicott City, Maryland Residents
If you love the amazing outdoor experiences of Ellicott City, then head into our local parks! When nature calls you, visit Patapsco Valley State Park. With loads to do from fishing, hiking, and mountain biking to horseback riding and canoeing, there are many activities to keep you busy, at this 337-acre park. Take a piece of natural inspiration back home with you with landscaping services, design, and installation from Absolute Landscape & Turf Services today!
Have a landscaping issue you just can't solve?
We're Here For You
Contact the experts at Absolute Landscape and Turf today!
410-489-0655