We all lead busy lives in Dayton, Eldersburg, Glenelg, Glenwood, Mt. Airy, Howard County, and the surrounding areas, whether that's family obligations, extra curricular activities that the kids are involved in, meetings with civic organizations, or other important dates. That's why you need to work with Absolute Landscape & Turf Services, Inc. because we can handle the important landscaping services to help keep your property looking its best and make sure that it is ready anytime for when you want to entertain or just relax and enjoy your surroundings. Free up your time to handle more important tasks by contacting our team today and getting on a schedule with our landscaping services team.
We Provide Year-Round Landscaping Services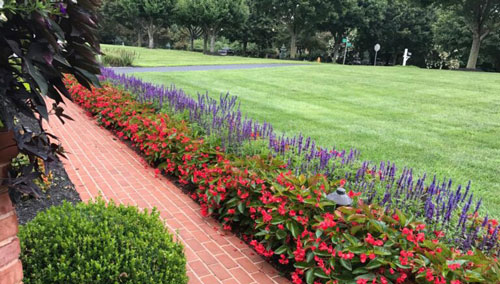 For many property owners, it starts with the routine, ongoing needs of grass mowing and edging services. This is a task that needs to continue happening on a weekly basis in order to keep the property looking its best. But there are also things that can be done in the fall as well as the spring that will help your grass look as healthy as possible and keep weeds from growing.
We can also do fertilization for your lawn to help keep it healthy and choke out any weeds that may try to grow. In the spring we can perform aeration of your lawn as well as overseeding, again these are to help provide for a healthier grass as well as keeping the weeds from taking hold on your property. During the fall months we can also help with leaf removal.
We can also help with other aspects to your landscaping as well, including seasonal flowers and other small plants, trees, shrubs, and more. Because we will be on your property many times throughout the year, we can offer suggestions for updating your landscaping to keep it looking its best, as well as helping to keep bad insects and other animals from destroying things.
Working With the Best
Many times, property owners will wonder if the team they are working with is as good as they claim they are. At Absolute Landscape & Turf Services, Inc., we have a history of satisfied clients that stretches for more than 20 years. That alone says a lot, but we are also members of PLANET, the Professional Landcare Network, as well as LCA, the Landscape Contractors' Association. We help property owners from design to execution in Dayton, Eldersburg, Glenelg, Glenwood, Mt. Airy, Howard County, and the surrounding areas, and we can do the same for you. Reach out today to start benefiting from our landscape services.