Do you have a great pool outside your house? A big pool is a blessing for people who love swimming. You can take a plunge in the waters on a hot summer day whenever you feel like. But at the same time, you have to make sure that the pool is designed well to suit your home exterior as well as made safe for use, especially if you have children at home. In order to do so, you should always pick a pool deck design. Having a pool deck makes life easier because there is a boundary which cannot be crossed buy children or your pets, thereby making it safe for use. We, at Absolute Landscape & Turf Services, can be the right choice for you. We are an established and reliable company which can provide you with a variety of landscaping services. Right from landscape installation and designing to water features, pool decks, fire pits, and much more, we have various kinds of production services for your landscape. We are known for our quality products and utmost dedication towards all our clients. So, if you are based in areas like Howard County, Glenelg, Ellicott City, Glenwood, or Clarksville, then you can opt for us.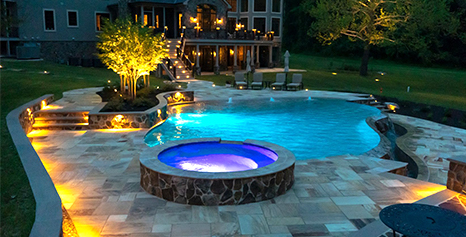 Here, we have put together a few things to check about the company providing you with a good pool deck design. Take a look.
In order to design and implement the pool deck for you, you will need experienced and knowledgeable professionals first. That is why you have to check with the company you are hiring if they have such professionals or not.
You have to also focus on the budget when designing a pool deck. You should make sure that you take an estimated rate from the company to understand if it is suitable for your budget or not. You can also compare these rates with others to check if the price is the most reasonable or not.
So, if you were thinking of hiring us, contact us now.