Steps and Walkways Servicing Dayton, Ellicott City, Glenelg, Clarksville, Glenwood, Sykesville, West Friendship, MD, and the Surrounding Areas
The first impression of your home originates from your curb appeal and what visitors see first. The color and material choices can enhance the overall beauty as well as the landscape surrounding the front of your home. What a great chance to make a first impression than a professionally designed walkway leading guests and visitors to your front door.
Whether you need to replace your existing walkway or design a new one, Absolute Landscape and Turf Services can provide multiple design options that will dramatically change the appearance of your property and potentially increase resale value.
We offer a wide variety of natural stone and interlocking concrete pavers in a wide range of colors for our clients to choose from for their preferred design. The end result is a walkway that will peacefully coexist with your landscape all while serving both form and function.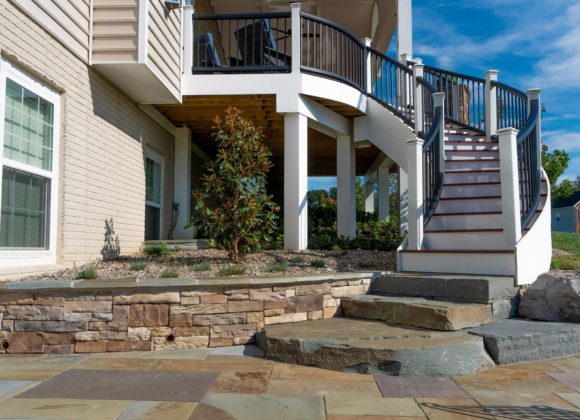 Walkways can be as simple or unique as you desire.
Accents, contrasting color, lighting and more can be part of your design. Some ideas to get you started on your walkway journey include:
Natural stone set in grass, pebble or moss edging
Winding curves with plant accents
Creative mix of materials for main walkway and edging
Going over a water feature
Bordered by a retaining wall, scrubs or other plants
Covered by a small pergola or lattice
Steppingstones through grass or pebbles
The material options are endless.
You can choose interlocking concrete pavers that can be incorporated in a variety of styles, shapes, and sizes. Traditional brick is another popular choice as are pavers, flagstone or other natural stone. Some customers like the option of choosing a different edging from the rest of the walkway. Some like smooth lines, and some like sleek angles. Whichever design you prefer, Absolute is the right choice to implement it!
Walkway Installation
The installation of your new walkway design is just as important as the materials you select. Absolute will complete a structural review before any work is started to find any possible issues and corrections.
Properly prepared walkways start with a solid base to ensure long-lasting integrity. We know you and your guests will never see the base of your walkway but it's important to us and part of our quality workmanship. We want you to be 100% satisfied, and most of all, we want your walkway to be safe.
Absolute Landscape & Turf Services, Inc. holds many certifications for installations like these such as being certified by the Interlocking Concrete Paving Institute (ICPI).
Take a look at the featured low maintenance, high quality projects below our team has constructed, and contact us today.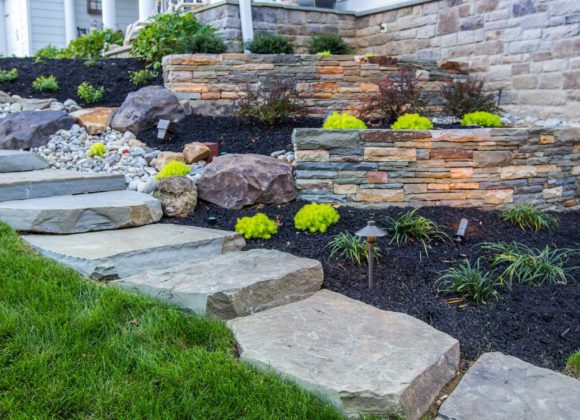 Steps and Walkways Gallery
Have a landscaping issue you just can't solve?
We're Here For You
Contact the experts at Absolute Landscape and Turf today!
410-489-0655