Retaining Walls in Ellicott City, MD
For years retaining walls have been utilized to hold back soil and reduce flooding and erosion. As a practical addition to homes and businesses, property owners often view retaining walls as a necessity and not so much a cosmetic enhancement.
However, at Absolute Landscape & Turf Services, we're changing how our clients view retaining walls. With a vast range of attractive materials to choose from, our skilled professionals work with homeowners and businesses in Ellicott City and surrounding areas to create custom and appealing retaining walls that add functionality to spaces and enhance landscapes.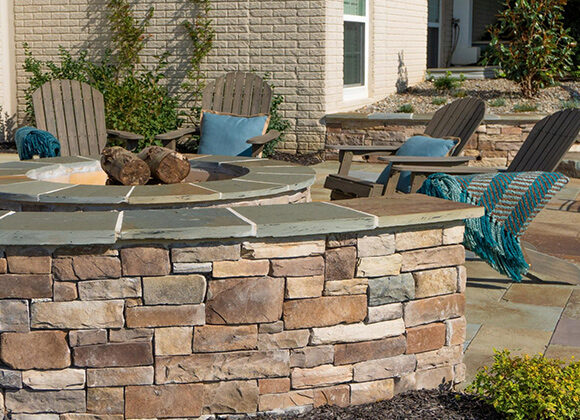 Benefits of Retaining Walls in Ellicott City
Retaining walls are commonly used on small hills to restrain soil and reduce debris on outdoor pathways. However, homeowners and businesses alike utilize retaining walls as an integral part of their landscaping scheme. Available in various materials and textures, retaining walls can be an attractive addition to your outdoor area. Common benefits of retaining walls include:
Aesthetic Appeal – Retaining walls can be utilized as an aesthetic enhancement of landscaping for an attractive look that your neighbors and clients will enjoy.
Support – Retaining walls provide support to certain areas including small hills and slopes that can be bothersome and inconvenient.
Flood Control – Retaining walls can reduce water run-off and erosion by slowing down the rate at which water travels through your outdoor area.
Functionality – Retaining walls are ideal for homeowners and businesses looking to add functionality to their outdoor spaces. By using walls to define areas, you can optimize available space and utilize walls to restrict access.
Retaining Wall Design and Installation in Ellicott City, MD
Ellicott City is not only known for its old-world charm, but it's known for its modern quirky shopping and dining options. While Ellicott City is a popular location for visitors to spend the day, residents know Ellicott City as a quiet and safe place to own a business and raise a family. With excellent public school systems, appealing outdoor parks, and attractive real estate options, Ellicott City has been named one of the best places to live in the state of Maryland!
At Absolute Landscape & Turf Services, it's our pleasure to provide homeowners and businesses in Ellicott City and the surrounding areas with quality outdoor retaining wall installations at affordable rates. Utilized as decorative pieces or functional restraints, retaining walls give outdoor areas a pleasant look and can be incorporated into your landscaping scheme for artistic flair. Available in a broad range of colors, textures, and styles, we help you select the retaining wall materials that improve your outdoor area and impress your guests. From landscape design to installation, we're there every step of the way!
Have a landscaping issue you just can't solve?
We're Here For You
Contact the experts at Absolute Landscape and Turf today!
410-489-0655