If you're trying to decide between concrete and patio pavers for your home or just starting to plan your patio, we'll go over some of the reasons patio pavers are a great choice. While you might think concrete is a better investment than patio pavers, you might be surprised. Many homeowners believe concrete is more robust, but concrete might not be as strong or long-lasting as your patio needs.
Patio Pavers have Excellent Durability and Strength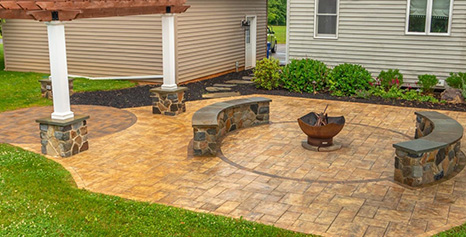 When comparing the amount of foot traffic and weight a patio might take, patio pavers are the clear winner. While concrete is generally thought of as the durable and robust choice, patio pavers can take up to four times as much weight as concrete. What does this mean for your patio? First, you'll be able to put whatever type of furniture and accessories you want on your patio pavers without worrying about damage. Second, even if you are planning a simple ground cover for a patio, you don't know what you might want to add on in the future. For example, if you're going to add a fire pit, outdoor kitchen, fireplace, or other structure, you'll need the strength of patio pavers. The same is true for a covering. Think of how you might be using your patio in the next 20 years, and you'll start to see the advantage of choosing patio pavers.
The Flexible Integrity of Patio Pavers
Everyone dreads the inevitable concrete cracking, but unfortunately, it's probably going to happen. Some of the reasons behind concrete cracking are normal settling and moving of the underlying surface, the weight placed on the concrete, shrinkage, and other conditions concrete is susceptible to encountering. Unfortunately, water will seep in once the cracking starts where it can freeze, and the cracking only gets worse. On the other hand, Patio pavers adjust to accommodate any shifts in underlying surfaces, and water has an area to drain off to and escape.
Cost Benefits of Patio Pavers
The two points above are great examples of the cost savings of patio pavers, but let's look at other reasons. First, replacement or fixing of a cracked or discolored paver is much easier than concrete patios. All you need to do is lift the affected paver and replace it.
Patio Pavers have a Quicker Time to Use
Concrete can be tricky regarding how long it takes to cure and when it can be used. Part of this is the shrinkage that concrete can go through as the moisture evaporates. One of the recommendations to prevent cracking caused by shrinkage is to spray new concrete for days following the installation constantly. Another factor is the type of weather conditions that concrete requires both for installation and curing.
Give us a call when you're ready to start your patio paver project in Clarksville, Ellicott City, Glenwood, Howard County, and surrounding areas. We work with a variety of different materials and can find the right one for you.