Residential Landscaping in Ellicott City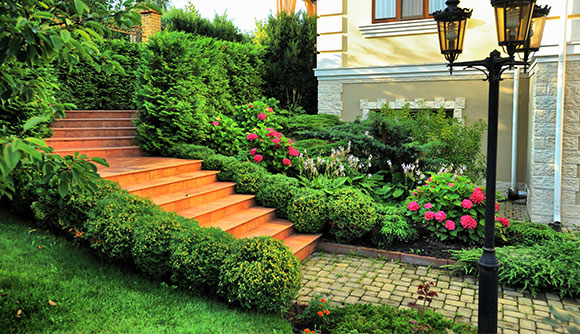 When you are looking for a company to make your residential landscape look beautiful, we can help. At Absolute Landscape, it's our passion to make every home in Ellicott City look their best through residential landscaping design. With our knowledge of local shrubbery and plants, we can design a beautiful landscape, bringing a whole new look to your home in Ellicott City. Our residential landscape designers will work with you if you have a plan in mind or we can create your residential landscaping design together. Using our 20 years of design experience, we can make your residential landscape look bright and colorful or exude a natural appeal. Whatever your dream residential landscaping design is, we can make it a reality.
Residential Landscaping Design Services to Compliment Your Home
Whether you are trying to make your residential landscaping beautiful for you and your family or to raise the value of your home in Ellicott City, we can do the job. At Absolute Landscape & Turf Services, our goal is to make your residential landscaping look clean and fresh. Whatever your landscape design needs, we can create the look you want. Whatever your residential landscaping design needs, we can provide it. Our design services can help you create the look you want for your residential landscaping. After you've chosen a design, we will deliver the plants and flowers, of your choosing, to your residence for planting. Our certified labor and management teams will make sure you are happy with the plants and flowers before we begin planting them. With our years of experience working with local flowers and plants, we have experience knowing what will look best and work well in your residential landscaping design.
Residential landscaping not only improves the look of your home, but it also improves the street you where you live. We are known for providing the best material selection when creating a landscape installation for homes in Ellicott City. We want every residential landscape we work on, to show pride of ownership. We will design, build, and maintain your residential landscaping, and keep it looking fresh and beautiful for years to come.
Residential Landscaping for Ellicott City, Maryland Residents
Ellicott City offers so much to its residents. B&O Ellicott City Station Museum is the oldest train station in America. During the Civil War, it transported troops and supplies for the Union. Now the station is on the National Register of Historic Places and can be visited throughout the year. If you are a resident of Ellicott City in need of landscaping, contact the local experts at Absolute Landscape today!
Have a landscaping issue you just can't solve?
We're Here For You
Contact the experts at Absolute Landscape and Turf today!
410-489-0655